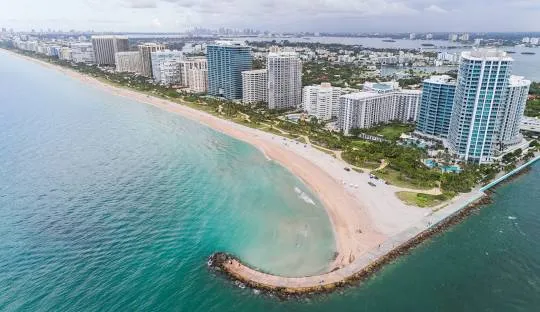 Market Snapshot
---
Price Range (For Sale)
$395K - $62M
Price Range (For Rent)
$2K - $85K
Overview
Bal Harbour is a peaceful luxury coastal village that offers tranquil beachfront living, world-famous shopping experiences, and a slower pace than other neighborhoods in Miami. The town is located in northeastern Miami Beach, right above Surfside and is connected to the city by a few bridges, though the infamous disarray of the bustling city never makes it close enough to vex the neighborhood.
Lifestyle
The village is lined with deluxe resorts and hotels, well-known for their incredible service and beautiful beaches. With these, come luxurious shopping experiences and endless dining options. The Bal Harbour Shops offer some of the most sought-after labels and boutiques in the world, making the shopping experience in the town very exclusive. Though it's popular for the premium shopping, dining, and resorts, at its core, Bal Harbour is a place for those seeking a peaceful and world-class lifestyle, in one of the most beautiful locations on Earth.
The Market
Bal Harbour is studded with single-family homes and luxury condominiums. Property layouts range from 1 bedroom 1 bathroom apartments to waterfront estates. The secluded village offers a much more relaxed lifestyle than that of neighboring towns, and has been consistently occupied by only around 3,000 residents in the past 10 years. Property investments in Bal Harbour tend to be very long term, as residents fall in love with the slower-paced lifestyle and great amenities.
Location
Related Neighborhoods