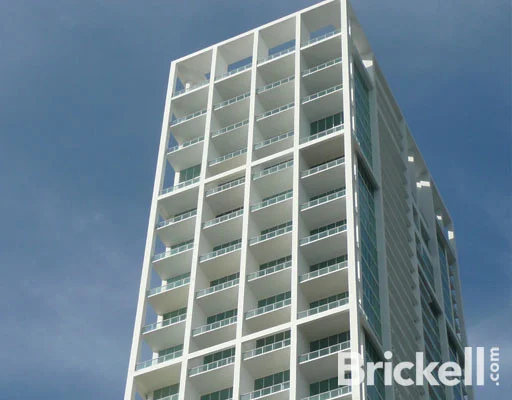 Overview
Since 2007, Ten Museum Park has remained an eye-catching fixture in Park West Miami. Situated near the MacArthur Causeway and Biscayne Boulevard, the fifty-story building continues to be a standout among Miami condos thanks to its inventive architecture. This architecture consists of a crystalline-like structure which gives Ten Museum Park a unique identity and personality. Instead of another rectangular residential building, Ten Museum Park offers style inside and out.
Among the many highlights of Ten Museum Park's features is its massive luxury spa facility and "pleasure garden" bearing none other than the high-end Clinique name, perhaps best known for its skincare products. Just outside the building, there is an inviting cafe and restaurant to grab a meal while staying close to home. Ten Museum Park also has spa pavilions that each offer a distinct treatment to keep your body and mind working in perfect harmony, including massages and aromatherapy. Residents of the building also enjoy around the clock concierge, lap pools, and much more.
Ten Museum Park's residences range in size from 791 to 5,241 square feet and the features are as impressive as you might expect. Floor to ceiling windows with glorious cityscape views, high-end stainless steel kitchen appliances, spacious terraces, all of this and more can be yours by becoming a resident of Ten Museum Park.
Because it's close to the MacArthur Causeway, Ten Museum Park residents always have an easy way to visit the barrier island of Miami Beach. Additionally, the building is within walking distance of a Metromover Station and it is just a couple of blocks northwest of the American Airlines Arena.
Location
Floor plans for Ten Museum Park
Walk Score for Ten Museum Park
BUILDING
Ten Museum Park
1040 Biscayne Blvd, Miami FL 33132