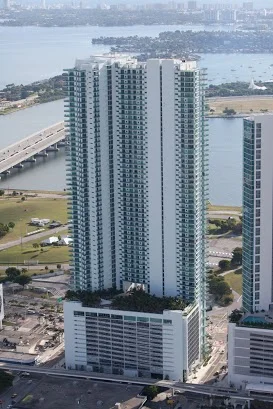 Overview
The 900 Biscayne condominiums in Miami by award-winning architect Revuelta Vega Leon and developer Terra Group stands more than 600 feet tall in Miami's Park West area in Downtown Maimi, within walking distance of major venues like the American Airlines Arena, home of the Miami Heat. With its soaring height, it currently holds the status of being Miami's fourth tallest building, right behind the Four Seasons Miami. It still retains its title as the tallest all-residential building not only in the city but also in the entire state of Florida.
Since its completion in 2008, 900 Biscayne has become one of the most acclaimed buildings located in the neighborhood referred to as Park West. It is packed with amenities and features that collectively create a living experience akin to staying at a resort. Over 8,000 square feet of amenities on the 15th and 17th floors, a modern fitness center spanning more than 3,000 square feet, a 5,000 square foot private theater and club room, a lagoon pool, wet bar, 900 Biscayne was carefully designed to ensure residents have as much substance as they do style.
Besides being able to walk to the American Airlines Arena whenever a major sporting or musical event is in town, residents of 900 Biscayne are also right across the street from Museum Park to the east and about two blocks southwest of the Phillip and Patricia Frost Museum of Science. Additionally, Bayside Marketplace and Bayfront Park are barely ten minutes away to the south via Biscayne Boulevard.
900 Biscayne Bay Listings
Location
Walk Score for 900 Biscayne Bay
BUILDING
900 Biscayne Bay
900 Biscayne Blvd, Miami FL 33132
Price Range
$650K - $3.49M