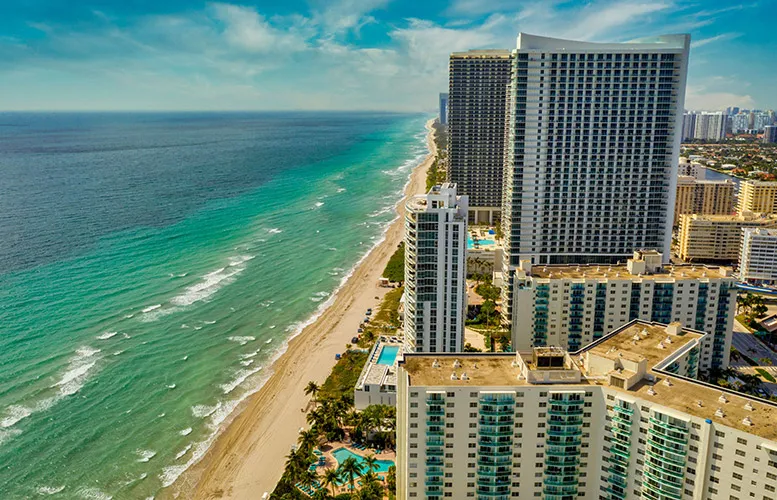 Market Snapshot
---
Price Range (For Sale)
$132.5K - $13.9M
Price Range (For Rent)
$1.25K - $75K
Overview
Hallandale, a tranquil coastal neighborhood located between Fort Lauderdale and Miami, is a haven of laid-back elegance and seaside charm. With its pristine beaches, a burgeoning dining scene, and a relaxed atmosphere, Hallandale offers a coastal escape that beautifully balances the allure of the Atlantic Ocean with the convenience of city living. This idyllic enclave invites residents to savor a lifestyle that embodies the best of beachside living and cosmopolitan comforts.
Lifestyle
Life in Hallandale unfolds at a leisurely pace, perfectly suited for those who appreciate the serenity of coastal living. The neighborhood attracts a diverse mix of residents who are drawn to its sun-kissed shores, leisurely boardwalk strolls, and water-based activities. Days are often spent basking on the pristine beaches, enjoying water sports, or exploring local parks. Hallandale's dining scene offers a delightful mix of waterfront eateries, cafes, and international cuisine, making dining out an enjoyable ritual. Residents find solace in the neighborhood's sense of community, often gathering for beachfront gatherings, outdoor events, and local festivals.
Market
Hallandale's real estate market is characterized by its beachfront properties and proximity to the ocean. The neighborhood offers a range of housing options, from luxurious oceanfront condominiums and beachfront apartments to single-family homes and townhouses. Many residences boast direct access to the beach and stunning waterfront views. The real estate landscape in Hallandale reflects its appeal as a coastal escape, with a demand for oceanfront properties. With its serene coastal beauty and a sense of relaxation, Hallandale invites residents to embrace a lifestyle that values the natural beauty of the sea, the pleasures of beachfront living, and the warmth of a close-knit beachside community.
Location
Related Neighborhoods