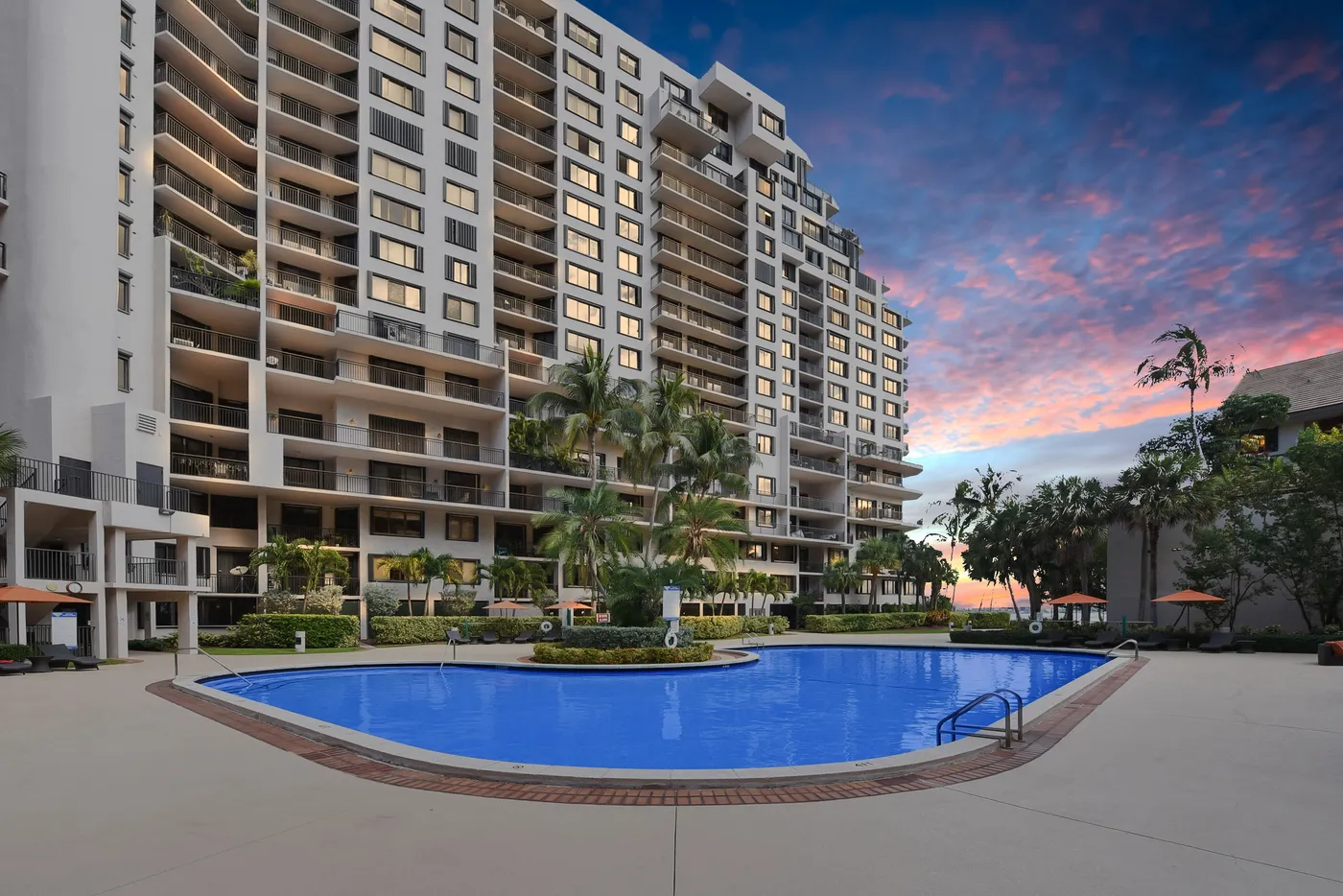 BUILDING
Brickell Key Two
540 Brickell Key Dr, Miami FL 33131
Price Range
$8.28K - $1.12M
Overview
One of the great pleasures of Brickell Key Miami is the constant contiguity to water, situated on a complex line of coast cut up by tributaries, a series of causeways link the city together.
Outdoor attractions continue with magnificent architecture; a staggering feat of city renovation has produced one of the most complete Art Deco monuments in the world, with entire streets of pastel colored 30's buildings perfectly restored. Shopping is definitely a local attraction, cute boutiques are as funky as clubs and fusionists parade the streets.
Building Summary
Community: Brickell Key
Architect: J.Scott Architecture
Views: Bayfront
Year Built: 1991
Status: Immediate Occupancy
Total Residences: 397
Number of Stories: 18
Floors:18
Number of Units:395
Bedrooms: Studio, 1, 2 & 3
Avg Price Per SqFt:$477
Residence Size: 640 – 1560 sq. ft.
Pet Friendly: Yes
Walk Score: 88 (Very Walkable)
Today Price Range:$270K to $835K
Days on the Market:95 day(s)
Governing Body: Condo Association
Property Type: Waterfront condo
The Brickell Key II Condominium is located in the island of Brickell key in Miami Florida, with 395 units and 18 floors. This luxury building was the second one built in 1991 following the success of Brickell Key I. The result is a Bayfront masterpiece of eighteen floors and 395 residences. This condominium is surrounded by water and provides a quiet, tranquil lifestyle with nearby restaurant, market place, children's playground and next to the well-known Mandarin Oriental Hotel, with its exclusive 5-star restaurants and spa.
The Brickell Key II condominium is located at 540 Brickell Key Blvd on Brickell Key near Brickell Avenue and Downtown Miami. The Brickell Key II has incredible bay, city and ocean views and year-round bay breezes. Just seconds from all the amenities Miami has to offer but safe and secure on Brickell Key.
Brickell Key condos are some of the most luxurious and grand condos available anywhere in the world. Brickell Key II is a triangular-shaped island that is it's own small paradise. This central location is only 5 minutes from the Port of Miami, about 11 minutes from Miami International Airport and a mere 15 minute drive to Miami Beach. This developed, 44-acre expanse of land is separated by only a few feet of water from the buzz of downtown Miami. The Brickell Key II condo that stand up and take its place in the Miami skyline are located near the heart of South Florida's financial district. This area was once called "Millionaires Row." Though the mansions of the past are long gone, the unique character of the area still attracts many entrepreneurs and businessmen.
Brickell Key Miami offers one of the most unique paradise island communities in the world. It is a small gated island in Downtown Miami. This is a very central location because it is just minutes away from the airport, Coral Gables, South Beach, and Coconut Grove just to name a few. Brickell Key Miami real estate offers amazing views of the bay and has a few shops and restaurants inside the island as well.
Brickell Key Miami – Living
Brickell Key Miami offers fabulous living on an exclusive island in the very heart of Miami. Brickell Key condos are surrounded by water and provide beautiful unobstructed views while taking a relaxing walk contemplating the sunset or an early morning jog around the islands walking path. Brickell Key living is tranquil, scenic and convenient. Its amenities include a market place, restaurant, dry cleaners, beauty salon and even a flower shop. Also located in Brickell Key is the well-known Mandarin Oriental Hotel, with its exclusive restaurants and spa.
All Brickell Key Miami condominiums feature their own private amenities. These include swimming pools, gyms, Jacuzzis, racquetball, squash and/or tennis courts, party rooms and other exclusive services, depending on the Condo. Concierge and valet parking is standard in all Brickell Keys condos. A shuttle bus service circulates between the Brickell Metrorail/Metromover station and Brickell Key, with stops along Coral Way, SW 2nd Avenue, SW 8th and 10th streets, Brickell Avenue, and Brickell Bay Drive.
Brickell Key Miami – History
The history of Brickell Key Miami and the Brickell Key condos can be traced to 1896, when Henry Flagler had a 9-foot deep channel dug from the mouth of the Miami River. In the process, Mr. Flagler created an off-shore property comprised of two small islands. Brickell Key Miami is an artificial triangular island at the mouth of the Miami River in Miami, Florida, United States. It is in Miami's Brickell neighborhood. Brickell Key is occasionally referred to as "Claughton Island", in honor of Edward Claughton who purchased the land that forms Brickell Key today.
In 1943, an investor, Edward N. Claughton, Sr. acquired the islands of Brickell Key and eventually purchased additional bay bottom land to combine them to a 44-acre triangle-shaped tract separated from the mansions of Miami's fashionable Brickell Avenue by only a few hundred feet of water. In the late 1970's, Swire Properties purchased most of the island property from the Claughton, and began to put into place a master plan that would ultimately transform it into one of the most unique island communities in the world. In recent years the Brickell Key area has come to the forefront of international business and luxury living.
Desire for waterfront property and Brickell's emergence as Miami's cosmopolitan center have encouraged considerable development and even grander plans for the future. Certainly the significance of being the second largest booming international financial center in the United States will further stimulate Miami's entire downtown area and lure new residents and business alike. Brickell just as diversity has always been the key to Miami's growth and success, so too is it the key to Brickell Key. Be it the wealth of cultural influences, the many international business interests represented, or even the simple contrast of the many modern office structures with quiet shady streets, Brickell is a dynamic area that the world is recognizing as a leader for the next century.
Things to See
Art Deco District
The historic Art Deco district of Miami represents one of the most spectacular redesigns in modern history.
Fairchild Tropical Garden
Fairchild Tropical Botanic Garden is one of the world's preeminent botanical gardens, established in Miami as the one place in America where tropical plants can grow all year round.
Villa Vizcaya
You should be missing a taste of Europe visit the Italian Renaissance style Villa Vizcaya which is a public museum full of art and fine furniture with quite astoundingly beautiful formal gardens.
Bass Museum of Art
The Bass museum houses are a uniquely comprehensive collection of some 3,000 works of art from Boticelli to Caribbean sculpture.
Wolfsonian – FIU
Originally the private collection of one incredibly wealthy individual, Mitchell Wolfson, a tremendous art deco waterfall is the lobby focus and many of the pieces are deco inspired. The stupendous Wolfsonian collection explores the evolution of design history.
Center for the Performing Arts
Housing four internationally acclaimed resident companies, the Concert Association of Florida, Florida Grand Opera, Miami City Ballet and New World Symphony, the Performing Arts Center provides extraordinary cultural and educational experiences of the highest quality.
Where to Shop
Shopping Insider at Mandarin Oriental
The Bal Harbour Shops
Village of Merrick Park
Lincoln Road Mall
Brickell Key Miami – Commercial Directory
Pictures:
Brickell II Condo Building
Gym Center
Brickell Key II
Tennis Court
Brickell Key II View
Brickell Key Two Listings
Location
Amenities at Brickell Key Two
Pool
Clubhouse
Controlled Access
Spa
Hot Tub
Tennis Court
Fitness Center
Business Center
Tennis
Pool
Spa
Fitness Center
Club House
Billiard
Library
Playground/ Play Room
Storage
Valet Parking
24 hours Security
Walk Score for Brickell Key Two
BUILDING
Brickell Key Two
540 Brickell Key Dr, Miami FL 33131
Price Range
$8.28K - $1.12M