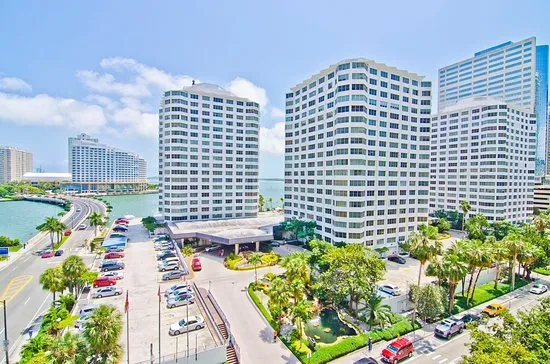 Overview
Located on the esteemed Brickell Bay, Four Ambassadors is one of the area's first high-end residential tower complex. Comprised of four towers, the oceanfront property is just one block from Brickell Avenue and a short walk to Downtown Miami. It is heralded for its classic design and impressive amenities
Each of the property's striking towers is 20 stories high and contains 744 condominium units. Units are available in a variety of layouts spanning from 500 to 2,560 square-feet. Floor plans include studios, one-, two- or three-bedroom units with one to three bathrooms.  Built from 1966 to 1968, the condominium units at the Four Ambassadors are equipped with fully updated kitchens and offer city and bay views.  Many units also feature spacious balconies, perfect for soaking in the South Florida sun.
Immediately upon entering the gracefully appointed lobby, patrons are greeted by a water fountain and seating area, as well as two of the area's most well known restaurants.  The Four Ambassadors is home to Sushi Siam, offering sushi and Thai cuisine, as well as Porcao Steakhouse, an upscale steakhouse with panoramic views of Biscayne Bay featuring a fixed-rate buffet style menu in which waiters bring an assortment of meats to the table. For added convenience, The Four Ambassadors also houses a grocery store appropriately dubbed the Ambassadors Grocery.
The Four Ambassadors towers are located at 999 Brickell Bay Drive (Tower I), 905 Brickell Bay Drive (Tower 2), 825 Brickell Bay Drive (Tower 3), and 801 Brickell Bay Drive (Tower 4).  The towers are ideally situated next to Brickell Avenue, which is renowned as the
financial center of Miami.  A multitude of banks and financial centers reside on Brickell Avenue and in the Downtown Miami neighborhood including Espirito Santo Financial Group, SouthOne Capital, Banco Santander, Bank of America, Washington Mutual, Colonial Bank, BankAtlantic, OceanBank, SunTrust, Banco Industrial de Venezuela, Mellon Financial, U.S. Century Bank, and Pacific National Bank (Banco del Pacifico, Ecuador).
One of the most recognized areas in the Brickell neighborhood is Brickell Key, a small island at the mouth of the Miami River.  Brickell Key is home to the famous Mandarin Oriental, Miami, a world-class resort with the state's only Forbes Five-Star spa.  The hotel is also known for its exquisite eateries including Azul and Café Sambal, as well as a martini bar and private beach. In recent years, Brickell has skyrocketed in popularity with the addition of numerous luxury high-rise condominium towers, shopping centers, restaurants, lounges, and bars. As a result, it is home to an estimated 25,000 residents. The business population of Brickell and Downtown Miami is also impressive. In 2009, it was estimated that more than 190,000 employees worked in these two neighboring areas.  And with all of the living options, including the Four Ambassadors, these employees have plenty of reason to live near their place of work.
Four Ambassadors Listings
Location
Amenities at Four Ambassadors
Two Olympic-sized swimming pools overlooking the bay
Poolside restaurant: Bayview Bar and Grill
Spa and Jacuzzis
Viba Ambassadors Spa
Carol-Ann Beauty Salon
Brickell Bay Café and Bakery
Valet parking
Walk Score for Four Ambassadors