Best Luxury Condo Buildings in Brickell
We've meticulously handpicked the best of Brickell and Brickell Key's condominiums, spotlighting the unique attributes that have elevated them to the zenith of their respective neighborhoods. This comprehensive guide delves into their most coveted floor plans, providing invaluable insights for potential buyers. The list below encapsulates a list of some of the better buildings in Brickell with links to their building profiles, current listings, sold inventory, and market statistics.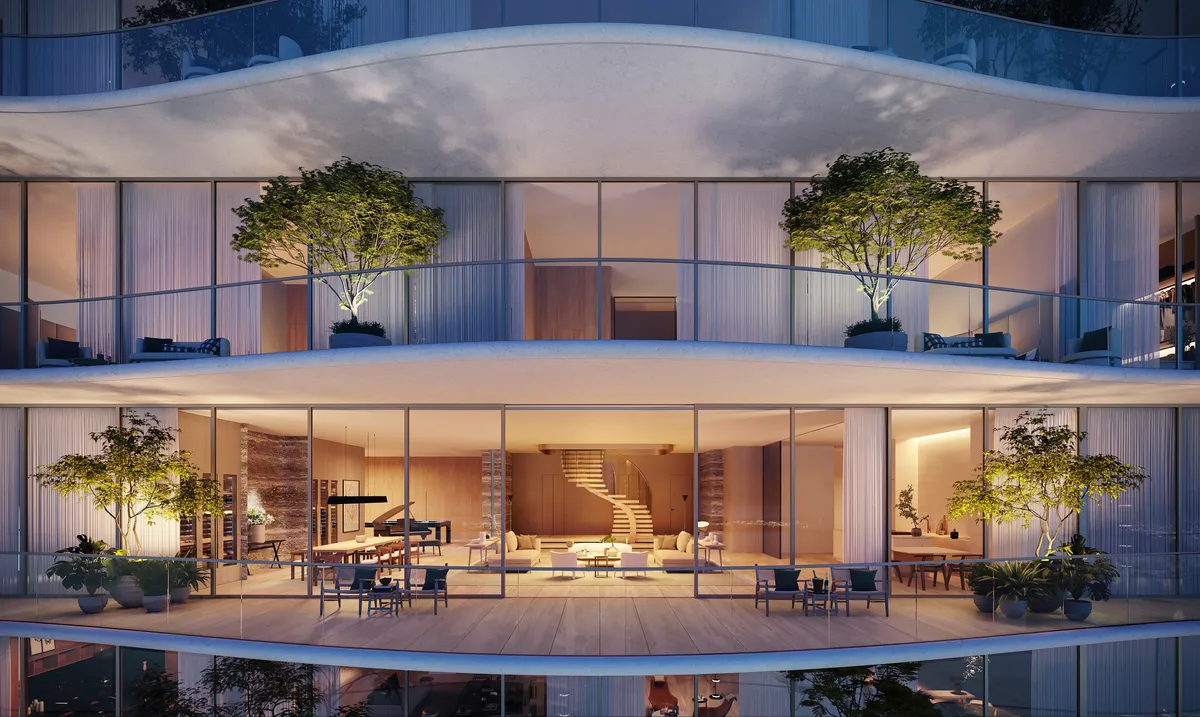 Four Seasons Residences
Just like the world famous 5 star hotel, Four Seasons Residences does not disappoint as it ranks as one of the best condo developments in the Miami area. As the second tallest high rise in Miami, Four Seasons Residences offers astounding views of the bay and city alike. The amenities are top-of-the-line as residents get membership to the fantastic Equinox Brickell gym, full-room service, an assortment of pools and activities, and close access to some of the best restaurants in the city. When we focus on some of the best floor plans that Four Seasons Residences has to offer, units E & F come to mind located at the 41st floor and up. These are corner units with beautiful views of Biscayne Bay. As another prime location development, Four Seasons Residences has become a mainstay at the top of our condo rankings.  
Jade Brickell
Jade Brickell is quite simply one of the most attractive and majestic condo establishments in the Miami area and its exemplary perfection is exhibited in a multitude of ways. Designed by the world renowned Revuelta Vega Leon Architects, Jade Brickell features 338 luxury residences infused with smart technology. Jade is in close proximity to the water and surrounding hotspots providing residences with prime location privy to only the best condo developments. Personally, we would rate the amenities as 5 star and some of the best in all of South Florida; like the 31,000 square feet Tropical Haven, infinity-edge lap pool, reflecting pool, and full service European-style spa. Tremendous floor plans are available at Jade Brickell with the best being floorplan B found in the 1 or the 11 line. These properties come with tremendous views of the bay and are highly sought after units. 
Carbonell
The Carbonell Brickell Key is located on Brickell Key in Miami, Florida. Carbonell- as one of the very best condos- features sensational views of Biscayne Bay and the Miami river. The beauty of the Brickell Key life is the tango between spectacular urban setting and a "homey" exclusivity feel. Residents of Brickell Key are able to enjoy their own island space while being connected to the larger Miami area. Carbonell a 40-story establishment was constructed in 2005 and offers one to three bed properties along with penthouse options, the condominium building also has 333 properties. From the moment you enter Carbonell Brickell Key you feel the vibe that it exhibits. The porte-cochere entrance welcomes you into a fantastic two-level lobby of water, maple, and marble, with a lobby terrace onlooking the river.
Santa Maria Brickell
The Santa Maria built in 1997 has been a mainstay amongst the top condominium developments in Brickell. Developed by the famous Ugo Colombo this 51-story highrise is easily detectable on the Miami skyline and is known for its famous views and tremendous positioning on the waterfront. The amenities at Santa Maria are truly fantastic including: an elegant clubhouse, gazebo and cabana area, underground racquetball court, lighted tennis court, oversized pool, and a secluded courtyard with a tree-shaded path. Residents are also just a short drive away from South Beach, American Airlines Arena, and the rest of Brickell. At the Santa Maria getting a bay facing property is ideal and we recommend the 01 and 02 lines at Tower Level between the floors of 27 and 42. Sporting tremendous floor-to-ceiling windows these circular properties with spacious balconies will provide you with unforgettable views of Biscayne Bay.
Echo Brickell
Echo Brickell is a premier 57-story 180 property condominium development built just recently in 2017. One of the major perks of Echo is customers have a wide variety of properties available ranging from one-, two-, three-, and four-bedroom floor plans, including an exclusive penthouse designed by the famous architect Carlos Ott that is going for a cool $37 million. This penthouse property includes an indoor lap pool, private gym, 23-foot high ceilings, and floor-to-ceiling glass windows. Echo Brickell employs smart technology and features Italian cabinetry, marble floors and countertops, and premium kitchenware. Perfect location in the heart of Brickell and fantastic amenities like the unique vanishing edge pool which overlooks Biscayne Bay makes it even more appealing. We would strongly recommend the 01, 02, and 03 lines at Echo Brickell. The beauty at Echo is the multitude of floorplans available making it a flexible option for potential residents.   
Rise & Reach at Brickell City Centre
The Rise & Reach Condominium developments feature some of the best locations in all of Miami. In close proximity to Brickell City Centre, this pair of condo buildings enable residents to enjoy a juicy slice of Brickell including all the top-of-the-line restaurants, shops, and entertainment options it has to offer. Built in 2016 by the well-known Swire Properties, Rise & Reach are LEED certified developments with residences that are delivered fully finished and furniture-ready with a choice of two interior finish packages. The two buildings also each have half-acre amenity decks. Residents are given a choice of many property sizes from 1-4 bedrooms. The most preferable floor plans in our eyes at Rise & Reach are 01, 03, and 11 lines. These units are all water facing and are on the higher floors enabling residents to experience tremendous views of Biscayne Bay. 
Asia Brickell Key
In terms of desirability, few buildings match the allure of the Asia Brickell Key condos. This building by developer Swire Properties features incredible architecture by J. Scott Architecture and is located on Brickell Key. With its waterfront location on the northern side of the island, Asia residents enjoy unobstructed northern vistas of the water as well as the Miami cityscape. The Asia Brickell condos has just 123 units, which means each residence has a tremendous amount of space and a significantly higher sense of privacy as you're basking in the waterfront boutique living experience. The building's seventh floor is home to a beautiful urban oasis featuring an infinity edge pool and there are plenty of amenities to make the most of the island living experience. In fact, it's not uncommon to see Asia residents taking a leisurely stroll near the building or admiring the stunning sunset views thanks to the island location.
Icon Brickell
The Icon triumvirate of Icon Brickell I, Icon Brickell II, and Icon Brickell III make up some of the best condos in Brickell. Designed by Arquitectonica and developed by The Related Group, the monumental residential development features more than 1,700 condominium units. Beginning with its multi-level entrance, the Icon on Brickell is an impressive design marvel. Modeled after the Maoi structures of Easter Island, the 100 columns that populate the entrance to all three towers are designed by Philippe Starck and stand at 22 feet tall. The well-designed entrance has separate drop-off sections for each tower's lobby as well as two drop-off sections for the two bayside restaurants. The incredible design of Icon on Brickell continues throughout the lobbies and into the towers. Philippe Starck also designed each tower's lobby with ceiling heights of 22 feet. Furthering its standout design is the buildings' amenities layout. From a two-acre pool terrace with three infinity edged pools to a 28,000 square-foot fitness center and spa to five restaurants and even a rooftop pool and lounge called Icon Club 50, the Icon on Brickell is a luxury condominium tower on Brickell rivaling world-class resorts.
Bristol Tower
Standing forty stories tall right on Brickell Avenue, the Bristol Tower condos elegant contemporary design commands attention. Its location next to the tranquil waters of Biscayne Bay coupled with the lush landscaping and easy access to the bay collectively create a living experience that feels like you're staying at a resort 365 days a year. The Bristol Tower condo remains another fine example of the unique appeal of living in the trendy Brickell area. Bristol Tower provides a broad array of units to choose from. Go with a two bedroom unit or something larger with five bedrooms, boasting a fantastic array of residential features. Modern kitchens, diverse layouts, balconies with plenty of space, private elevators leading to private foyers, astounding views are all qualities that make the Bristol Tower condos among the finest residences in all of South Florida. Bristol Tower's amenities further reinforce the feel of living in a resort. Play a round of tennis on the courts, spend the day swimming or sunbathing by the pool, keep the body active in the fitness center, there are plenty of amenities to make use of.
Icon Brickell
Why Work with us? I have sold hundreds of Brickell condos over my career. I'm a top-producing agent who is known as a market analyst. I also have my very own software called Condo Geeks, which allows me to track down a market or a specific condo 15 years back. I can see how stable that condo is, what the average price per SF is and how this stacks up against other condos. My experience will not only guide you towards the best unit, but also protect you from terrible mistakes. I challenge you to quiz me on any building in any market. I will honestly give you the good, the bad, and the ugly no matter what the cost.