Best Hotels Brickell & Downtown Miami
Hotels are the key to a great vacation and we've put together a list of the best spots to kick back and relax in Brickell and the surrounding area.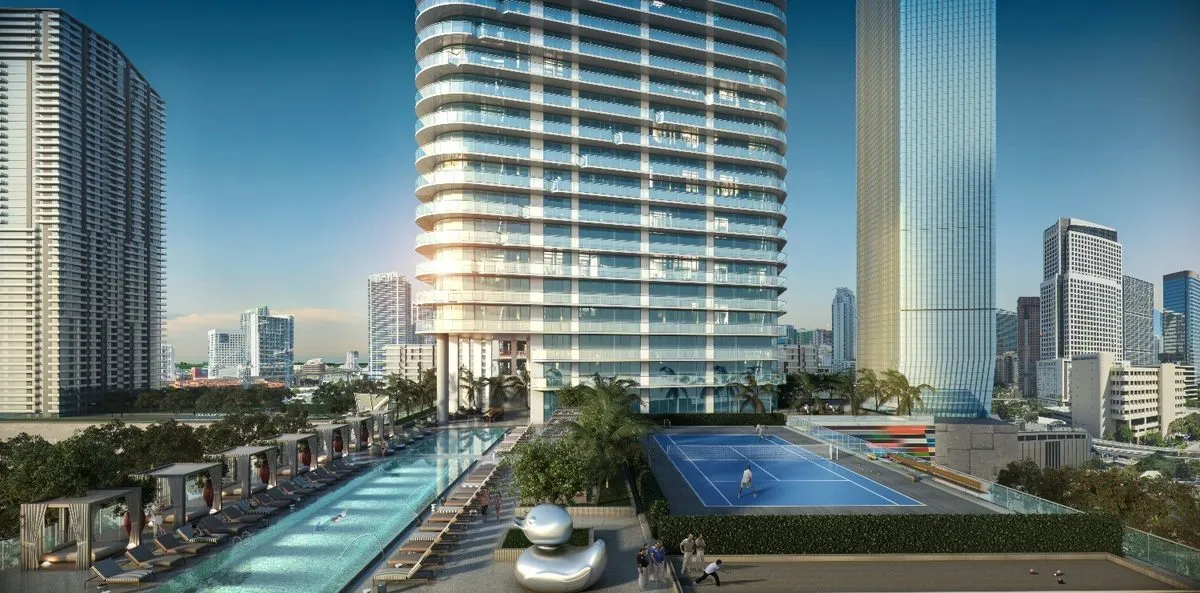 EAST Miami
788 Brickell Plaza, Miami, FL 33131
Perhaps the most unique and chic hotel on our list, EAST Miami is smack-dab in the middle of the great Brickell City Centre home to luxury retail, fine dining, and new condos. A fresh and modern creation, EAST Miami exhibits earthy vibes with natural stone walls and brown marble tile floors in its lobby. Developed by the Hong-Kong based EAST brand, the hotel honors its Chinese roots through clean and elegant design while maintaining a youthful spritz. The hotel's masterful swimming deck is stunning and a favorite among guests. Like many other hotels on this list EAST Miami has floor-to-ceiling windows and spacious balconies with great views. "Uruguyan Heaven" is what I like to call Quinto La Huella which is EAST Miami's featured restaurant. Find out more about this savory spot on our 10 Best Brickell Restaurants list.
Mandarin Oriental
500 Brickell Key Dr, Miami, FL 33131
Asian luxury at its finest, the Mandarin Oriental Miami is a five-star masterpiece located ideally on the exclusive Brickell Key. The Mandarin is one of the few resorts in the area that tangos with exclusivity and convenience as its located right next to Brickell and Downtown Miami. Rooms at this world-class haven exhibit high-gloss marble, bronze sculptures, dark-wood accents, and floor-to-ceiling windows with awe-inspiring views of the bay and the city. Residents are privy to the award-winning 15,000 square-foot spa and fitness- center as well as an on-site boutique. The resort is also home to one of the best restaurants in Miami, La Mar by Gaston Acurio. This Peruvian spot will tantalize your taste buds and keep you wanting more. Learn more about La Mar on our 10 Best Brickell Restaurants list.
Four Seasons
1435 Brickell Ave, Miami, FL 33131
The Four Seasons Miami is among the cream of the crop when it comes to luxury and the brand exudes excellence on a worldwide level. Whether your on a romantic getaway, a family trip, or just staying for the night, The Four Seasons is a one-of-a-kind destination. The hotel stands distinctively above the serene Miami skyline and is a short walk from the picturesque Biscayne Bay providing guests with breathtaking views. The hotel features a two-acre resort-style pool area that is elegantly landscaped and features private cabanas, hammocks, and lounges. To top it off, the staff members at the hotel provide guests with complimentary smoothies and bites to eat during the day. The Four Seasons Miami also features a tremendous 50,000 square foot Equinox gym for guests to use. The experience at the Four Seasons is unrivaled and has everything your looking for in a dream stay.
SLS Lux
805 S Miami Ave, Miami, FL 33130
Located right next to the popular hotspot Brickell City Centre, SLS Lux is a flashy high-rise that is the epitome of city leisure. Developed by Arquitectonica and Jorge Pérez's Related Group, SLS Lux features world-class art like a bronze Fernando Botero sculpture near the entrance and line drawings by Salvador Dalí. The hotel comes with the S Bar, an elegant rooftop pool and bar with beautiful views of the Brickell skyline. Guests are also able to enjoy the Ciel Spa known for its healing deep tissue massages. At SLS Lux the rooms are spacious featuring a private balcony and marble kitchen bar along with a tremendous bathroom setup that has a marble tub and rainfall shower. The hotel's restaurant is a trendy and hip Japanese dive known as Katsuya which sports a great sushi bar selection.
InterContinental Miami
100 Chopin Plaza, Miami, FL 33131
Perhaps the very definition of a great business hotel, the InterContinental Miami is perched eloquently on the Miami River and is also within close proximity to Biscayne Bay. A hotspot amongst business travelers, the InterContinental fuses an elegant old-style feel with a fresh modern touch. The hotel is a prime location for conferences and events as it features large ballroom spaces. Rooms are homey and spacious with elegant bathrooms and panoramic windows providing views to Biscayne Bay and the port of Miami. Toro Toro is the hotel's main restaurant attraction. Created by Mexican chef Richard Sandoval, it infuses contemporary tapas and pan-Latin cuisine.

W Miami
485 Brickell Ave, Miami, FL 33131
The W brand is known worldwide for its glitz and flash, and its Miami locale exhibits much of the same. The W Miami has premier location among the skyscrapers of Brickell and is very close to the popular touristy destination Mary Brickell Village. The hotel has ravishing design, both interior and exterior. The glass structure was created by Arquitectonica and renowned designer Kelly Wearstler mixes Beverly Hills Rococo design with a hint of Asian flair. One unmistakeable feature at W Miami is the fantastic 300-foot-long infinity pool on its 15th floor. 15th & Vine is the featured restaurant and is adjacent to the pool deck with a beautiful patio terrace overlooking the bay. The name W rings bells around the world as it serves host to some of the greatest parties. The club FIFTY found on the 50th floor produces game-changing ragers that go long into the Miami night.
JW Marriot Marquis
255 Biscayne Blvd Way, Miami, FL 33131
The JW Marriot Marquis is located right on the water near Biscayne Bay. The luxurious establishment is nestled in between new high-rise condo developments and office towers and its close proximity to Brickell City Centre and Mary Brickell Village are just one of its many perks. A shining glass masterpiece, the JW Marriot oozes with distinction. Facilities at the JW Marriot are unrivaled as guests can enjoy a rooftop pool deck, luxurious spa with picturesque views, a huge fitness centre, and even a full-sized basketball court. Rooms boast opulent floor-to-ceiling windows that yield photo worthy views of Biscayne Bay and the downtown skyline and mini t.v screens are located in the bathroom mirrors for a modern feel. Daniel Boulud's restaurant Boulud Sud is perfect for a quick bite or romantic dinner and mixes classic French cuisine with a Mediterranean twist.