With so many people working and playing in Brickell, you can imagine that there are a lot of great places to eat food in this upscale neighborhood. We've put together a list of what we consider some of the best restaurants in Brickell. If you haven't visited any of these restaurants yet, it may be time to plan a visit and indulge in a delicious food experience!
Casa Tua (70 SW 7th St)
Perhaps my favorite location to indulge in lunch, dinner, or even a pizza, Casa Tua Cucina is THE Place for all things Italian. Casa Tua Cucina is the creation of Miky Grendene the founder of the iconic Casa Tua Restaurant and Private Club & Hotel who collaborated with luxury retailer Saks Fifth Avenue creating an environment of infused luxury dining and shopping. When I enter Casa Tua I instantly feel at home. Tons of magnificent artisan creations ranging from the Black Truffle Tagliolini to the Prosciutto and Mushroom Pizza fulfill my cravings. Add a Mezcal Passion Martini and I'm good to go. Combine the delectable cuisine with the sleek design and vibrant atmosphere, this exquisite food hall is one of the top places for lunch and dinner in all of Brickell. 
Zuma (270 Brickell Blvd Way)
As heralded international chef Rainer Becker's first U.S location for his line, Zuma features izakaya- inspired modern Japanese cuisine. The thing that struck me when going to Zuma for the first time was the magnificent design inside the massive establishment and the multitude of spaces you can enjoy your meal; all with unique views and vibes. Zuma has a main dining area, sushi and robata counter, sake bar, lounge, and even a terrace. The term Izakaya quite literally means "edible art," and this is truly what you experience at Zuma. Not only is the food like a picturesque portrait, but the flavor and experience is out of this world. When ordering from the sushi bar I normally go with the popular Spicy yellowtail roll with serrano pepper and wasabi mayo. Pairing this with a glass of Midorikawa Masamune warm sake will certainly make for a memorable evening. 
Fi'lia (1300 S Miami Ave)
Nestled within the recently opened SLS Brickell Hotel, Fi'lia is the epitome of wholesome Italian dining. Opened by celebrity chef Michael Schwartz, "Fi'lia" -which is actually a spin-off of the Italian word for "daughter"- offers homemade, rustic, classical Italian cuisine with handmade pastas, brick-oven pizzas, along with fresh meats and seafood. Fi'lia is a perfect dinner location in my opinion as it is a quaint and elegant spot intertwined with an open-kitchen concept making you feel comfortable and at home. The Margherita pizza at Fi'lia is a must- have and classics like Cacio e pepe are superb as well. If your on the daring side you have to indulge in the Snapper Tartare garnished with smoked trout roe, served alongside crisp Yukon potato chips. An honest family atmosphere, Fi'lia has all the right ingredients for a memorable evening with your partner. 
Quinto La Huella (788 Brickell Plaza)
If you are looking for a spot in Brickell, Miami that offers a relaxing environment that promotes ethnic, simple, and delicious food, Quinto La Huella is the place to be. Executive Chef, Nano Crespo, incorporates his culinary expertise to create a menu that subsides every seafood lovers desires. Not a fan of seafood? Quinto La Huella offers pizza, pasta, and traditional food from Uruguay making it flexible for vegetarians. My favorite dish is the rich ravioli de ricotta y acelga, a charred ravioli dish coated in tomato and parmesan. The soft texture of the ravioli paired with a savory sauce is undeniably culinary excellence. While Quinto La Huella offers a wonderful array of choices for food, they also have a large drinks menu that consists of champagne, rose, white wine, sangria, red wine, and special La Huella drinks. The Caipi Maracuya, which perfectly pairs with any meal on the menu, is vodka infused with passion fruit and cane sugar. Visit Quinto La Huella for a traditional Uruguayan meal while also enjoying the contemporary ambience of the top rated restaurant. 
La Mar (500 Brickell Key Dr)
La Mar is a Peruvian masterpiece developed by the world-renowned chef Gaston Acurio. La Mar truly has some magnificent views of the city and Biscayne Bay and the interior offers a comfortable and cozy vibe. The spot offers a combination of indoor and outdoor seating with three contemporary bars providing distinctive culinary experiences ranging from upscale novo-Andean cuisine to Asian-Peruvian fusion and traditional seafood. Some of the most brilliant features of this premium dining experience are the tremendous ceviches, tiraditos, and the signature pisco sours. I normally find my way to La Mar on Sundays during two-hour brunch when they serve unlimited cocktails. The meats are exquisite at La Mar and the plantain chips are delightful with their famous Tari sauce. For an romantic evening with your partner or a gathering with family and friends, La Mar will serve your savory desires.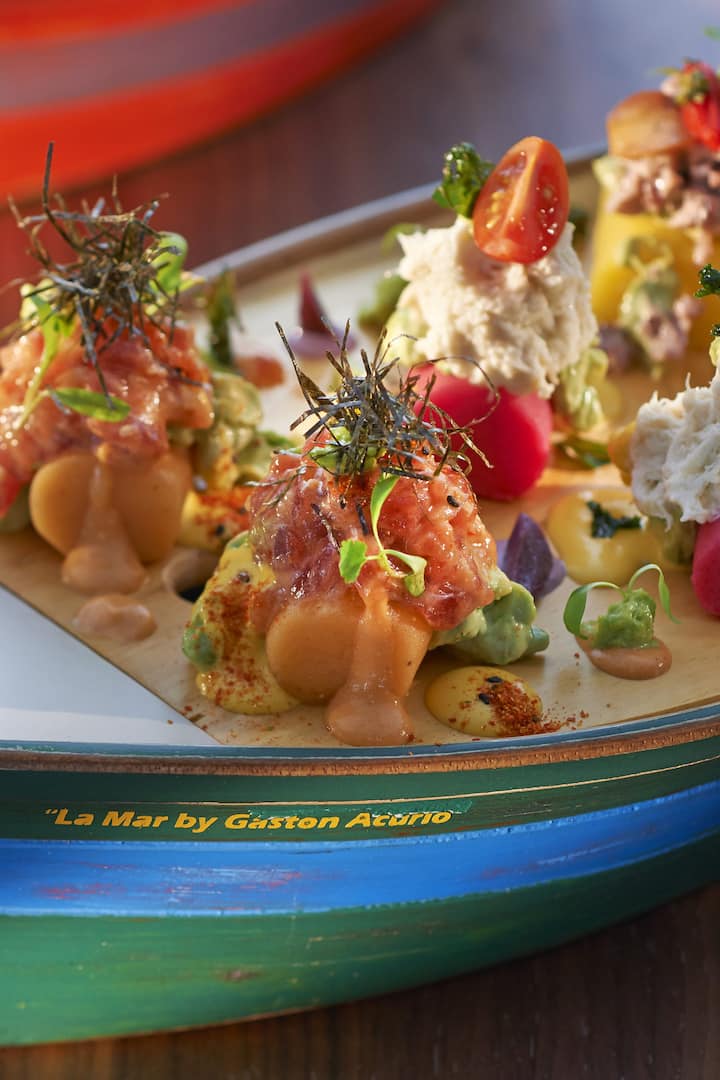 Cantina La 20 (465 Brickell Ave) 
"The Twenty" as I like to call it, is a masterpiece of a cantina reflecting true Mexican cultural essence. A deli, restaurant, and cafe all rolled up into one perfect concoction with mariachis in the background, world- class chef Santiago Gomez has positioned Cantina Veinte among the best restaurants in Miami. Words cannot do justice to describe the magnificent Art Deco architecture within Cantina La Veinte with its brilliant black and gold colors and enchanting geometry. The food is equally as enticing with dishes from each Mexican state featuring avant-garde techniques such as vacuum cooking and spherification. The "vuelve la vida" Mexican ceviche is like taking a nibble of heaven; bursting with an avalanche of juices and citrus it is a must have. They also have over 250 tequilas and mezcals to choose from. I don't know about you compadre, but for me that's my way of relaxing and unwinding to find my nirvana.
La Centrale (601 S Miami Ave )
An Italian food lover's heavenly dream, La Centrale is a 40,000 square foot hall of unadulterated paradise. This haven is home to Italian inspired restaurants, bars, cafes, markets, wine shops, and even a cooking studio. When you walk into La Centrale it feels as if you have just entered a rustic Italian village. Every detail from the decadent travertine tiles to the dim lights create a perfect cave- like, snug atmosphere that reminds you of Italia. Moving to the food, three dishes managed to steal my heart. The delectable fried ravioli with ricotta and spinach stuffing, the juicy shrimp and vegetable skewers, and last but not least the fantastic prosciutto croquetas. If your a true foodie this spot has everything you're looking for, and more. Friends, family, compatriots, "Viva la Vida" at La Centrale.
Tacology (701 S Miami Ave)
Officially known in my opinion as the haven of taco, Tacology is home to some of the best Mexican street food in all of Dade County. Located in the heart of the Brickell City Center, Tacology's neon purple logo is hard to miss. Tacology was created by Chef Santiago Gomez and has a unique market atmosphere with majestic hanging vines, decadent canopies, and colorful seats. My favorite dish out of them all at Tacology would have to be the Pulled Chicken Chilaquiles served with tangy tortilla chips, freshly made tomatillo salsa, along with exquisite Manchego cheese. On top of that -a dish that is great with friends or family as an appetizer- is the Queso Fundido, a brilliant fondue with warm tortillas. When you need to satisfy those powerful Mexican food cravings look no further than Tacology, a one-of-a-kind taco experience located in the heart of Brickell.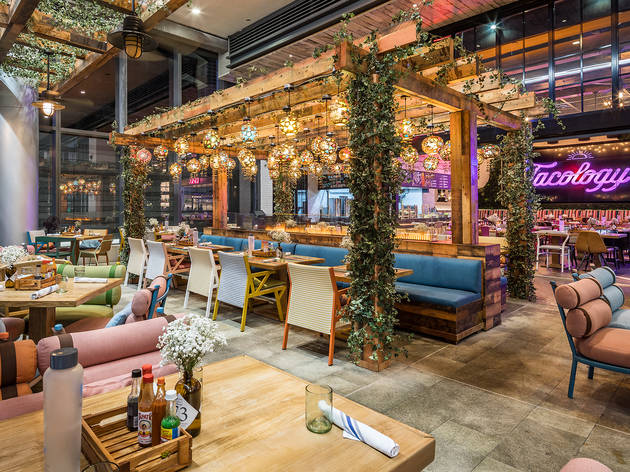 The River Oyster Bar (650 S Miami Ave)
The River Oyster Bar is one of Miami's top seafood destinations found near the Miami River. A true gem of a restaurant, The River delivers a contemporary twist on classic seafood dishes in a refreshing and comfy location. This seafood lover's dream is well-known for its selection of hand-shucked premium oysters, hand-selected local produce, and fresh cold-water fish brought in from Alaska. The happy hour is tremendous and the service is second to none when it comes to Miami restaurants. Perfect for a romantic evening out or a business rendezvous, The River Oyster Bar will surely satisfy your needs. 
Momi Ramen (5 SW 11th St)
Momi Ramen is a wholesome restaurant that epitomizes a natural Ramen experience. This popular Brickell kitchen features a communal wooden table and massive kettles of tonkotsu broth which bubble away and simmer for hours filling the restaurant with a savory and delectable aroma. The noodles are textured and fresh, being made several times daily in an in-house press. One of the brilliant features of Momi Ramen is that it is open until 2a.m and is perfect for late-night dining. The destination is so popular amongst resident that it is being deemed a "new hangover cure for the late-night Brickell bar crowd."