Baccarat Residences Brickell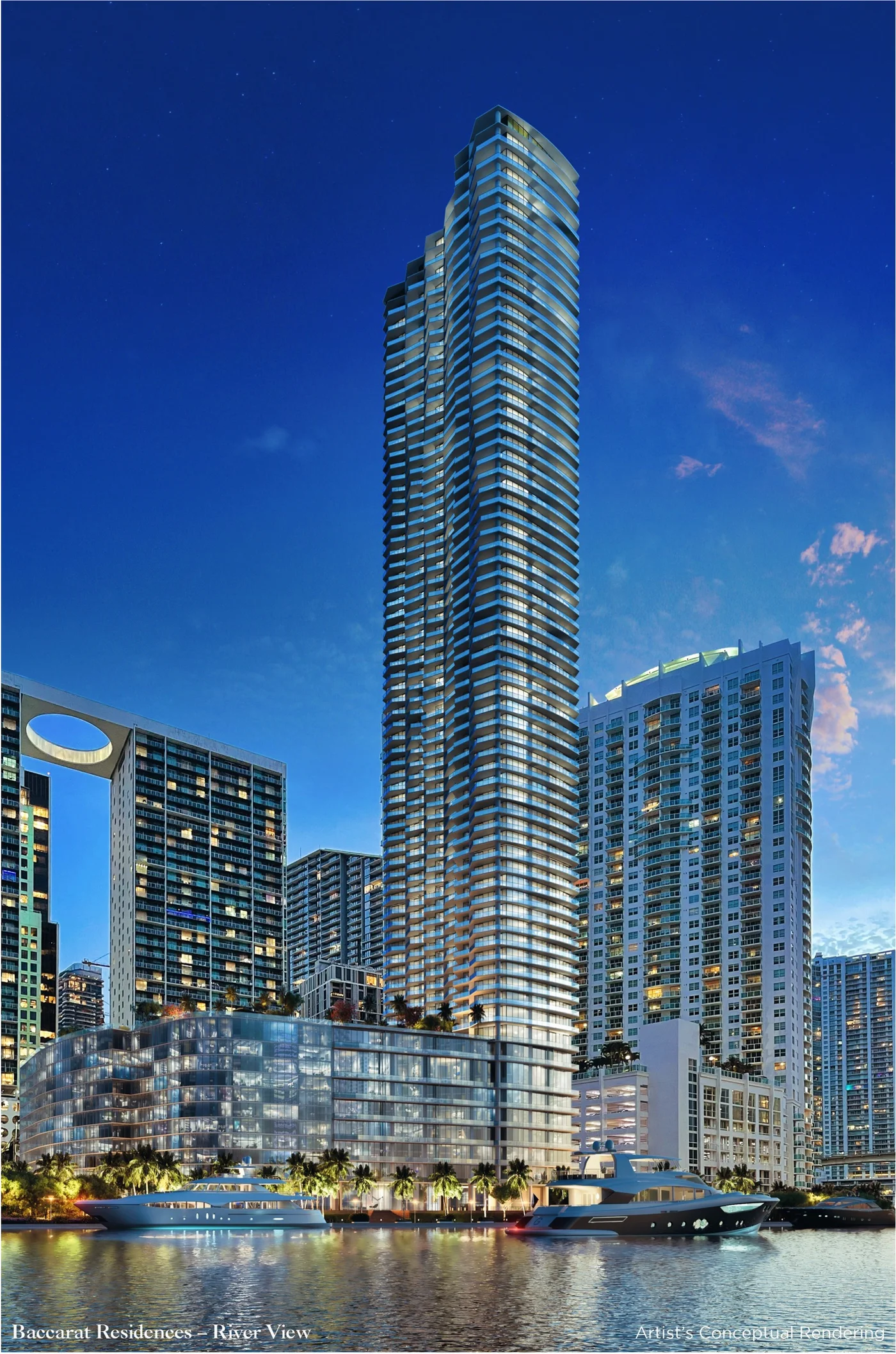 Overview
Located at 444 Brickell Ave, and standing at 75-stories, Baccarat Residences Brickell is a pre-construction located in the bustling Brickell neighborhood and will offer unbeatable views of the Miami River, the bay, and the booming city. Though, unmatched views aren't the only amazing feature that Baccarat Miami's perfect location has to offer; it is also right across the street from Brickell City Centre and within walking distance of Bayfront park. Additionally, it's surrounded by numerous incomparable Brickell dining experiences, like one of Miami's top seafood destinations, The River Oyster Bar.
Baccarat Miami boasts a dazzling collection of 324 residential units, 8 penthouses, and 28 riverfront flats and duplexes. Starting at $1M for their one-bed, two-bath residences, these ultra-luxurious Miami luxury condos all come equipped with tinted floor-to-ceiling windows, sunrise terraces, and a selection of decor finishes
Designed by international architectural firm Architectonica, and interiorly designed by Meyer Davis, Baccarat Residences Brickell is being developed by a world-class team that will undoubtedly bring this tower to life in the most attractive way.
The new Brickell luxury condos are certainly going to appeal to audiences that desire a premium lifestyle, as they will experience the comfort of having all immediate needs being met via the extensive list of amenities that Baccarat Residences has to offer. Some of these include 24-hour room service, 24-hour security, and 24-hour complimentary valet. Another notable amenity in this list is the private marina with yacht reservation services and a water taxi. However, these are not the only reservations Baccarat offers; residents are also afforded the option of reserving a limousine service for ease of transport around Brickell. Residents can also enjoy private membership and access to the 1 Hotel South Beach Beach Club where they can relax on loungers, receive beach towel services, and reserve cabanas. With their stunning interior design, unobstructed panoramic views, enviable amenities, and unbeatable location, Baccarat Residences is a tower sure to leave residences beyond content with their living experience.
Baccarat Residences Miami Listings