The Best New Construction Projects in Brickell & Downtown
Explore the latest new developments in Brickell & Downtown Miami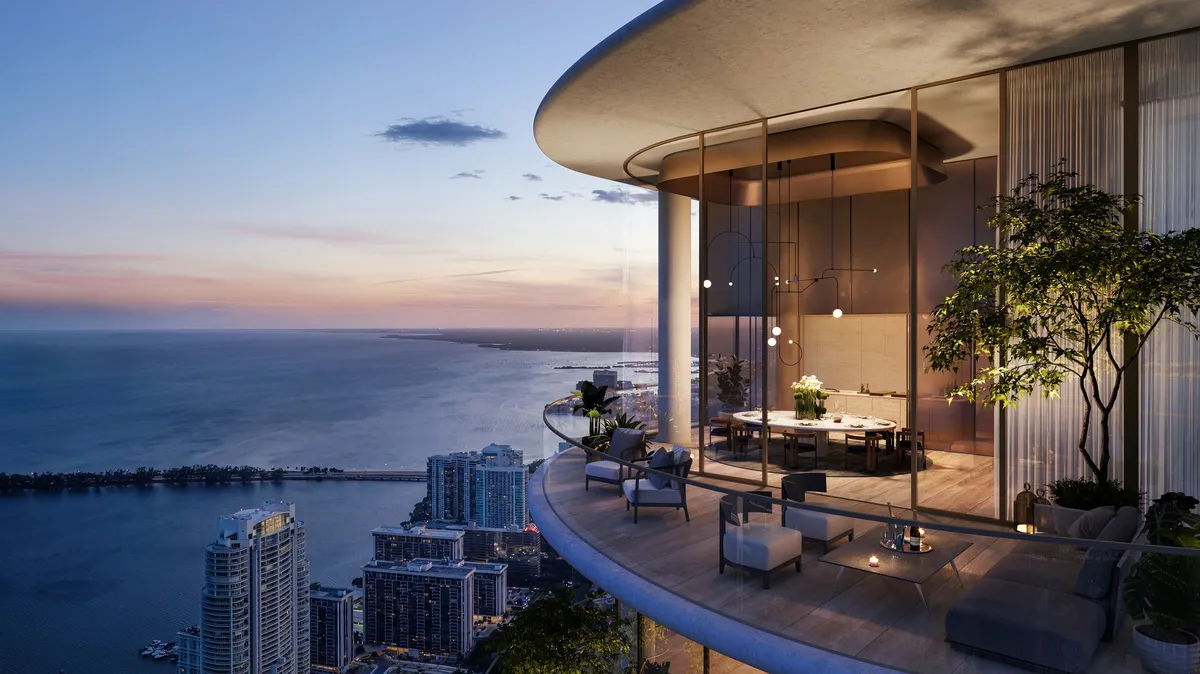 Nestled in the heart of Downtown Miami, the Brickell neighborhood stands as one of the city's most coveted areas, offering a diverse array of real estate opportunities, from pre-construction gems to brand-new developments and enticing investment prospects. Amidst the plethora of choices in Brickell's condominium market, you're in the right place if you're seeking a fresh start.
In a neighborhood as dynamic as Brickell, it's crucial to stay informed about the latest developments and understand their distinctive features. Each property is unique, with some offering flexibility for short-term rentals, such as Airbnb, while others adhere to a more traditional residential format. For those seeking the pinnacle of luxury, some are even associated with prestigious brands like Baccarat and Aston Martin.
Below, you'll find a curated list of the newest condominiums available for sale in Brickell, Miami. Keep reading to explore the latest offerings in Brickell's real estate market and discover the top pre-construction and new developments that await you.
St. Regis Residences
Introducing the exquisite St. Regis Residences Miami, a captivating pre-construction development gracing the waterfront along 1809 Brickell Avenue. This prestigious venture is a collaborative masterpiece crafted by The Related Group and Integra Investments, set to redefine the standards of luxury living.
Rising gracefully to a towering 50 stories in South Brickell, The St. Regis Residences Miami will command breathtaking waterfront views. Comprising a select 150 opulent residences proudly bearing the renowned St. Regis brand, these homes offer expansive floor plans ranging from 2,100 to a lavish 7,000 square feet, with pricing commencing at $4 million. Every detail within is thoughtfully curated by the acclaimed interior design firm, the Rockwell Group. Residents will enjoy the privilege of private elevators and a gracious entry foyer. The interiors are adorned with Custom European marble flooring, seamlessly integrated smart home technology, and a gourmet kitchen featuring bespoke Italian cabinetry and top-of-the-line Sub-Zero and Wolf appliances. Additional luxuries include oversized walk-in closets, generously appointed marble vanities, and Toto toilets, ensuring the utmost comfort and sophistication.
Villa Miami
Introducing Villa Miami, a forthcoming pre-construction becon of luxury living in Miami's sought-after Edgewater neighborhood. With 55 floors, including 49 residential levels and three private club amenity levels, this development is set to redefine waterfront living. Residents will enjoy breathtaking 360˚ views spanning Biscayne Bay, the Atlantic Ocean, Downtown Miami, and Miami Beach.
Anticipated for completion by the end of 2026, Villa Miami is the brainchild of renowned developers Terra Group (known for Park Grove in Coconut Grove) and the One Thousand Group (famous for the iconic One Thousand Museum condo tower designed by Zaha Hadid in Downtown Miami). Elevating the luxury quotient, Major Food Group will provide exclusive VIP services throughout the building.
Mandarin Oriental Residences
Discover The Residences at Mandarin Oriental Miami, a prestigious bayfront pre-construction development nestled on Brickell Key. This remarkable project is a collaborative masterpiece by the esteemed Mandarin Oriental Hotel Group and Swire Properties, featuring architectural brilliance by Kohn Pederson Fox Associates.
Soaring to an impressive height of 800 feet, The Residences at Mandarin Oriental Miami offers a collection of 220 private homes. These two-to-four-bedroom residences boast expansive floor plans, spanning up to a generous 4,700 square feet, while two exclusive duplex penthouses each offer over 6,000 square feet of opulent living space.
The Residences at 1428 Brickell
Welcome to The Residences at 1428 Brickell, an Antonio Citterio masterpiece and Miami's latest pre-construction condominium development soaring to a magnificent 70 stories. This extraordinary project offers 189 fully finished residential units, meticulously designed with flooring, closets, lighting, and window treatments. Notably, a quarter of the building is exclusively dedicated to opulent two-story residences.
The architectural marvel of 1428 Brickell presents an array of floor plans, ranging from two to four bedrooms plus a den, spanning 1,800 to 4,000 square feet of exquisitely tailored living space. For those seeking the pinnacle of luxury, the Penthouse Collection is nothing short of breathtaking, with floor plans ranging from 4,000 to an astonishing 10,000 interior square feet. Two of these magnificent penthouses demand attention with awe-inspiring 30-foot-high ceilings (see 1428 Brickell floor plans for details).
Leading the development of The Residences at 1428 Brickell is YTech, with both the exterior and interiors graced by the masterful touch of ACPV ARCHITECTS, under the esteemed leadership of world-renowned architect Antonio Citterio. Arquitectonica serves as the architect of record, while ArquitectonicaGEO oversees the landscape design of this exceptional endeavor.
Waldorf Astoria
The impending Waldorf Astoria is one of the most highly coveted developments south of Manhattan. Standing at an incredible 100 stories high, right across from Biscayne Bay in Downtown, the Waldorf Astoria will surely catch the eyes of anyone observing the Miami skyline. Developed by PMG Residential, and interiorly designed by BAMO Design Firm, the tower will possess 360 fully furnished 1-4 bedroom private residences. Showcasing a wide range of amenities, Waldorf Astoria Miami will have plenty of exclusive benefits for all of their residents. Amongst them are some notable features like the world renowned restaurant Peacock Alley, an immersive resort-style pool with private cabanas, and access to the beach club. Presenting such stunning attributes, in conjunction with unobstructed bay, ocean, and city views, Waldorf Astoria Residences Miami is leading the charge for innovative luxury residences in Brickell.
Una Residences
Standing at 47 stories high, with 135 residential units, Una Residences Miami is a dynamic tower with a prominent silhouette that is impossible to ignore. Located at 175 SE 25th Rd, Una Residences is thoughtfully positioned between Downtown, Miami Beach, and Coconut Grove. Some attractions near the property are the American Airlines Arena, Brickell City Centre, and Bayfront Park. Aside from their prime location, Una Residences offers plenty of notable amenities including a variety of pools, a state-of-the-art gym with yoga and personal training studios, and access to the Grand Bay Club. Developed by international real estate development firms, OKO Group and Cain International, these luxury Miami condos will possess some of the most remarkable attention to details amongst residential developments in all of South Florida.