Panorama Tower Soars Over Brickell
Brickell is now home to the tallest building in Miami; and, thus far, the tallest residential building on the eastern seaboard, south of New York City. The Panorama Tower is located at 1101 Brickell Avenue, and stands complete at 868 feet tall. This mixed-use skyscraper is slated to open in late 2017.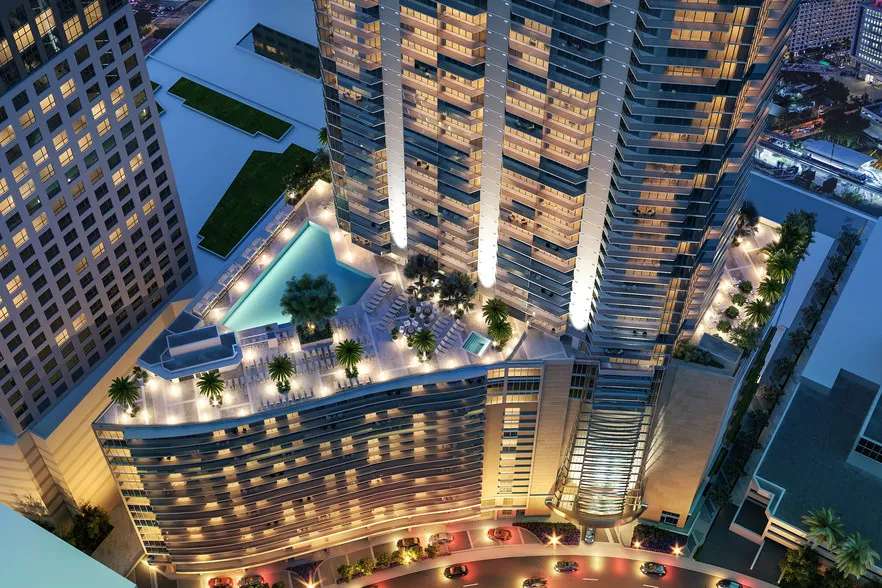 Kobi Karp originally designed the building, which is owned by Tibor Hollo, an American real estate developer, in 2006. However, due to the real estate bubble in the United States, the construction of the building was postponed. Fast forward to 2013, Hollo contracted Moshe Cosicher of AIA Architects to redesign the project. Zyscovich Architecture was hired to serve as the interior designers of this lavish project.
Brickell Specs that Impress
The 85-story Panorama Tower houses 821 luxury residential apartments, along with a 19-story pedestal, which includes a 208-room boutique hotel owned by Hyatt. The opulent residential units range from 1,150 to 2,000 + square feet, and feature, one, two, or three bedrooms. The units offer private dining rooms, with separate wine rooms.
The Panorama Tower is the largest building in Miami, in terms of gross floor area. The development has between 2,600,000 to 3,000,000 square feet of space. In addition to the hotel and apartments, the complex has 100,000 square feet of medically oriented office space, as well as 500,000 square feet of high-end retail space.
Abundant Amenities at Panorama Towers
Without a doubt, a development as grand as the Panorama Tower is sure to offer residents superb amenities. Among the amenities are an enormous gym, a steam room, a spinning studio, a yoga studio, a spa, four pools, and a pool deck restaurant. The 24/7 lobby offers security, concierge, and valet services.
Residents have access to a wrap around pool deck on the 22nd floor. This pool deck offers breathtaking views of the Miami skyline, Biscayne Bay, and the Atlantic Ocean.
The Panorama Towers also has three private movie theaters for screenings or private events, a pet daycare, a recording studio, and a cyber café. This state-of-the-art building offers electric car-charging stations for visitors and residents.
If you are interested in learning more about this fantastic development that has dramatically transformed the Brickell skyline, then contact me at Brickell.com and I will be more than happy to share information regarding units in this prestigious development.