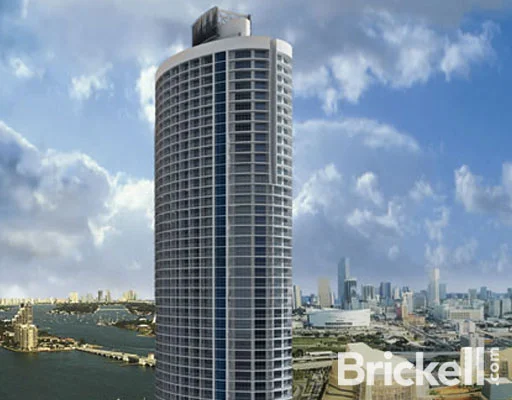 Overview
Opera Tower, an exquisite condominium masterpiece, emerged through the collaborative efforts of Florida East Coast Realty as the developer and Corradino Group Architects as the visionary designers. This architectural gem reached its culmination in 2007, gracing the skyline with its commanding presence. Comprising an impressive 56 floors, Opera Tower stands tall, accommodating a total of 635 exceptional residential units.
These residences encompass studios, one-bedroom, and two-bedroom condos, with sizes ranging from 503 to 1,048 interior square feet, complemented by inviting balconies that offer a perfect vantage point to soak in the captivating vistas. The defining feature of Opera Tower lies in its elliptical shape, thoughtfully oriented perpendicular to the shimmering waters of Biscayne Bay, ensuring that residents can relish both the serene waterfront and the dynamic cityscape.
Opera Tower presents a world of lavish amenities to its discerning residents, elevating their living experience. Among these offerings are a state-of-the-art fitness center, an enticing swimming pool, relaxing whirlpool spas, and the convenience of a 24-hour concierge service. For those seeking opportunities for leisure and socializing, the clubroom is an ideal destination, while professionals will appreciate the convenience of the well-equipped business center. The building further boasts on-site amenities, including a handy convenience store, dry cleaners, a hair salon, and a restaurant, all seamlessly integrated into the ground-floor level for added convenience.
Situated in the vibrant Edgewater neighborhood of Miami, Opera Tower enjoys a prime address at 1750 North Bayshore Drive. Directly adjacent to the building lies the picturesque Margaret Pace Park, a verdant oasis offering an array of recreational facilities, from tennis courts and basketball courts to volleyball courts and an outdoor fitness center. Canine companions are not forgotten, with a dedicated dog park providing ample space for furry friends to frolic. All of this, set against a backdrop of lush greenery, contributes to the park's allure.
Opera Tower's strategic location ensures easy access to some of Miami's most coveted destinations. By car, residents can reach the iconic South Beach in a mere 7 minutes, while Midtown Miami and the trendy Wynwood district are equally accessible within 7 and 8 minutes, respectively. For those jet-setting travelers, the Miami International Airport is conveniently situated just 20 minutes away. Within walking distance, a plethora of dining options, banking facilities, and a Publix grocery store await, enhancing the convenience and allure of life at Opera Tower.
Location
Amenities at Opera Tower
Swimming pool
Whirlpool spas
Business center
24-hour concierge
Fitness center
Club room
Floor plans for Opera Tower
Walk Score for Opera Tower