New Renderings for Towers at Miami World Center
Lalezarian Properties Releases Renderings for New Towers at Miami Worldcenter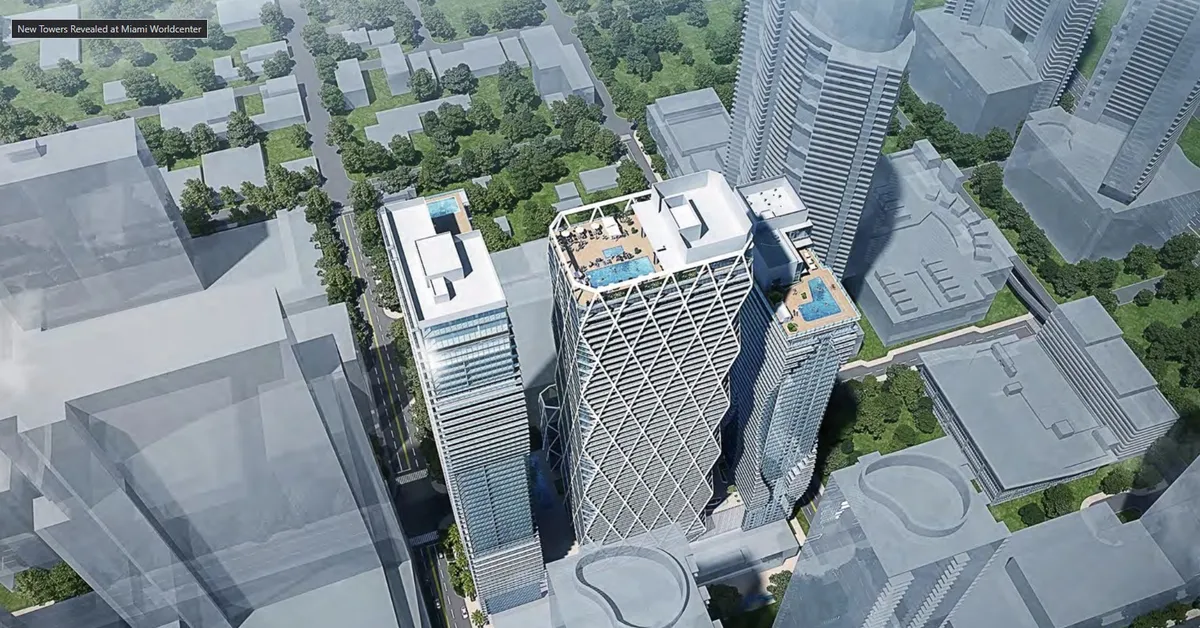 Miami World Towers, a groundbreaking project set to redefine Block E within the sprawling 27-acre Miami Worldcenter complex in Downtown Miami, has unveiled its ambitious vision through captivating renderings and site plans. Conceived by Nichols Architects with Kimley-Horn as the landscape architect, this transformative venture is spearheaded by Miami World Buildings LLC, an affiliate of Lalezarian Properties.
The unveiled designs showcase four impressive towers that are poised to reshape the city's skyline. The quartet comprises a 25-story North Tower, a soaring 68-story South Tower, an equally majestic 68-story West Tower, and the currently under-construction 557-unit East Tower. Together, these structures are poised to add a staggering 2,137,110 square feet of space, featuring 2,040 residential units, an array of amenities, and an additional 810 parking spaces. In totality, the four towers will deliver 2,600 residential units and an astounding 3 million square feet of space. The proposal is set for review by Miami's Urban Development Review Board on September 20th.
The renderings by Nichols Architects offer a glimpse into the impressive density of the four-tower complex, which essentially occupies the entire block. The facades exhibit an intriguing array of architectural styles, showcasing Miami's diverse design influences. Tower 3, despite its significant height, maintains design continuity with Tower 1, featuring floor-to-ceiling glass windows framed in elegant silver aluminum, alongside glass balcony handrails that tastefully accentuate the facade. This meticulous blend emphasizes the tower's unique external curves, imparting a sense of dynamic motion to the structure.
On the other hand, Tower 2 introduces a distinctive character with white diagrid aluminum-clad columns, an innovative approach for both its 25-story and 68-story sections. These columns feature intricate diamond-shaped patterns, chamfered edges, staggered slabs, and striking glass curtain walls. The design conjures associations with the iconic Foster + Partners-designed Hearst Tower in New York City and a forthcoming Hines office tower planned for the Miami Worldcenter site.
The residences at Miami World Towers will span an array of floor plans, ranging from 380 to 1,286 square feet, encompassing studios, one-bedroom, one-bedroom with den, two-bedroom, and three-bedroom layouts. A wealth of amenities is strategically located on the 14th floor, while rooftop pools grace levels 65 and 66 of the towering structures.
Miami World Towers strategically situates over 2,000 residential units within easy reach of numerous Metromover and Metrorail stations, enhancing the city's urban appeal and facilitating seamless access to Miami's extensive public transit system. With 2,994 square feet of commercial space on the ground floor, the development further elevates its allure by enhancing the streetscape and fostering a vibrant pedestrian-friendly environment.
The proposal also prioritizes pedestrian connectivity, introducing a publicly accessible promenade that effortlessly guides individuals from NE 8th Street to Tower 2's opulent lobby. The Miami Worldcenter Promenade, accessible to both locals and visitors, extends to a pedestrian paseo, forging an east-west corridor that promotes dynamic urban interactions, thereby enriching the project's role in fostering a vibrant urban community.