Chef Gordon Ramsay Expands Culinary Empire with Hell's Kitchen Miami
Hell's Kitchen officially opens in Downtown Miami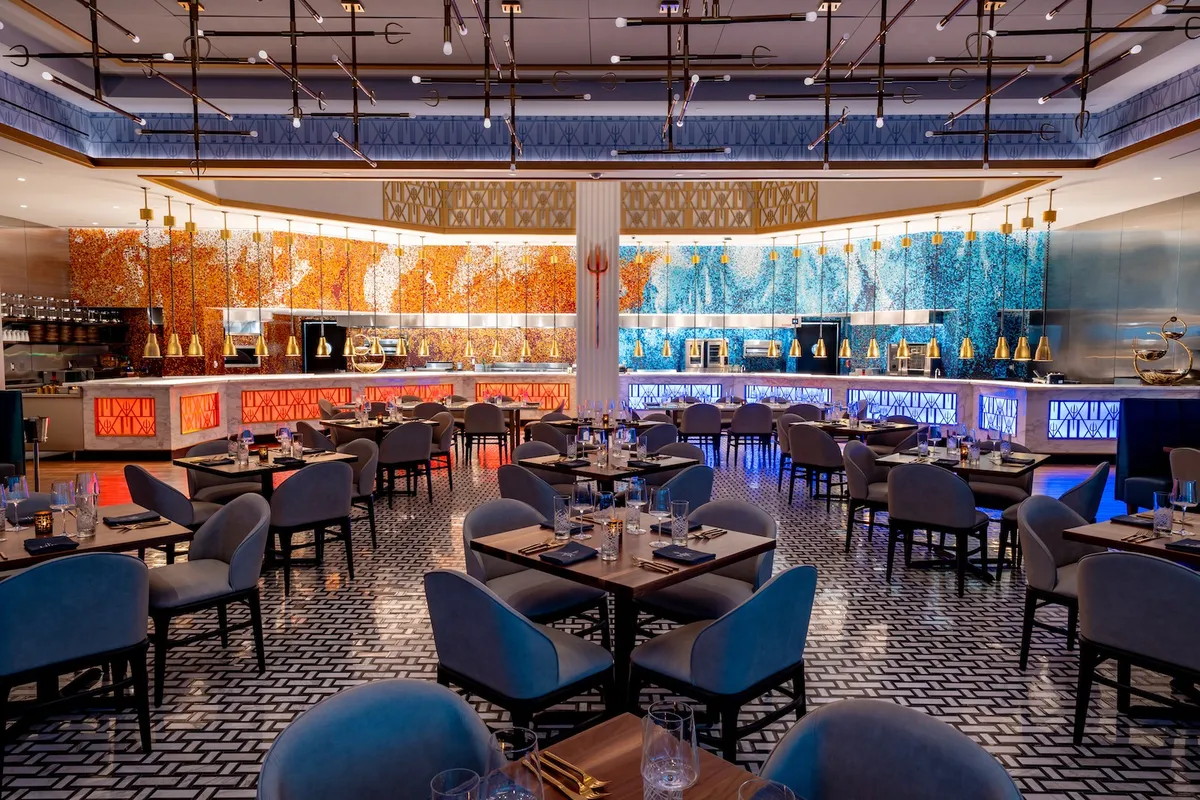 World-renowned chef and restaurateur Gordon Ramsay has unveiled his latest gastronomic masterpiece, Hell's Kitchen Miami, marking his debut culinary venture in South Florida. Inspired by the iconic dishes from his beloved television culinary competition series, Hell's Kitchen, the restaurant celebrated its grand inauguration on the vibrant evening of Saturday, September 23.
Located at the prestigious address of 333 Biscayne Boulevard Way, within the bustling Met Square Complex in downtown Miami, this dining haven graces the northern banks of the majestic Miami River. Nestled within the Metropolitan Miami mixed-use complex, the property exudes sophistication, housing 188 opulent apartments, a reverent museum paying homage to the Tequesta tribe, an upscale hotel, a Silverspot Cinema, and an expansive 40,000 square feet of high-end retail and gastronomic space.
The sprawling two-story Hell's Kitchen restaurant boasts an airy ambiance, complete with an inviting patio, a serene terrace, an interactive open kitchen, two inviting bars, two exclusive chef's tables, and a series of private dining sanctuaries on the main level.
The show-stopping open kitchen, designed to be the pièce de résistance of the restaurant, blends dramatic lighting with elegant white marble countertops, providing a visual feast for those who revel in the culinary theatre. Even diners seated on the second level can witness the culinary prowess from the comfort of their seats, thanks to a dedicated observation area artfully positioned above the bustling kitchen.
While the Hell's Kitchen menu will feature Ramsay's signature classics like his famed beef Wellington, crispy skin salmon, and delectable sticky toffee pudding, it will also introduce Miami-exclusive creations. Highlights include steamed mussels accompanied by Spanish chorizo in a tantalizing tomato saffron broth, and churros served with a dusting of cinnamon sugar, accompanied by Mexican chocolate sauce and a dollop of dulce de leche ice cream.
The restaurant also offers a curated three-course prix-fixe menu, complete with meticulously chosen wine pairings that accentuate fan-favorite dishes. For those with dietary preferences, there are vegetarian and vegan alternatives, including a vegan tomato saffron risotto and perfectly pan-seared tofu "scallops."
As for libations, the bar promises an array of classic and specialty beverages, including the innovative "Smoke on the Water," presented in a lantern filled with aromatic smoke. A must-try is the "Notes from Gordon," a libation that comes with a personalized note from the culinary maestro himself.
Gordon Ramsay, in collaboration with Lion Capital, inked a pivotal agreement in 2019 to expand his culinary concepts nationwide. Presently, the company operates over a dozen eateries across various cities, encompassing establishments such as Gordon Ramsay Fish & Chips, Gordon Ramsay Burger, Gordon Ramsay Street Pizza, and Gordon Ramsay Steak. These culinary delights can be savored in diverse locations, including Boston, Orlando, Baltimore, Kansas City, as well as the renowned culinary capitals of Las Vegas and Chicago.