BUON APPETITO: LA CENTRALE OPENS
La Centrale, Miami's premier Italian food hall, celebrated it's grand opening on February 16th. The first floor will open and will be followed by the opening of the second and third level on March 1st.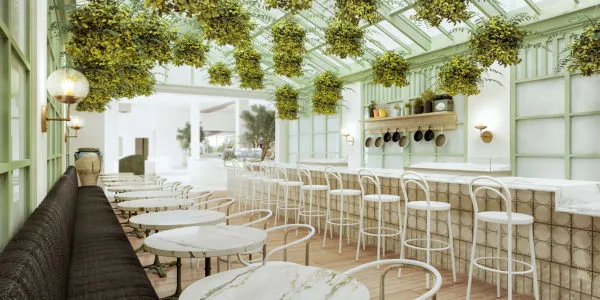 Touted as Miami's premier food hall, La Centrale houses a 40,400 square foot gastronomic emporium filled with Italian-inspired caffes, restaurants, markets, and bars, as well as a wine shop and a cooking studio all within a 3-story section of Brickell City Center.
The Mercato, located on the first level of La Centrale, offers fresh made pastas, pastries, salads, and espresso. This place also offers Italian specialties including meats and cheeses.
The food hall's restaurants offer Italian-inspired classic fare within an Italian setting. Patrons can either sit down for a full meal or can pop in one of the bars for a small plate or a glass of wine. The first level is also home to Pizza e Pasta and the Caffe.
The second level is home to Pesce and Stagionale. Here, patrons can enjoy a wide variety of seafood, and a seasonal, vegetable-forward menu, including a mozzarella bar, risotto, and seasonal truffles. Additionally, the second level is home to Carne, which offers the finest cuts of meat and Tuscan-inspired food; and, Gelateria by Venchi, which happens to be Italy's most celebrated gelateria.
In addition to the delicious food options, La Centrale offers patrons three bars – Aperitivo Bar, which serves small bites and craft cocktails; Bollicine Bar, located at the Pesce restaurant; and, Enoteca, on the third floor, which serves small bites and regional Italian wines that are curated by La Centrale's sommelier.
La Centrale showcase retail offerings featuring the finest Italian specialty ingredients. Patrons of La Centrale have a wide selection of house-made breads, pastries, and pastas to choose from, as well as fresh fish, choice cuts of meat, and premium wines.
La Centrale was brought to Miami by restaurateur Jacopo Giustiniani, and Matthias Kiehm, a hospitality industry veteran. They chose Miami's Brickell City Centre as the spot for La Centrale because they believe that Brickell is a true urban success story, and has the feel of other large cities such as New York and Chicago, which have popular food halls.
Each restaurant on the premises will represent 20 regions in Italy. Giustiniani and Kiehm thought that patrons would like to go into one of the many restaurants, eat the food, and then go downstairs, to the Mercato, to purchase the same ingredients to prepare at home.
Giustiniani and Kiehm meticulously created La Centrale, because they wanted the market to be an experience that would evoke emotions, and not just create a modified food court. With such innovative thinking, La Centrale is sure to be popular among locals and tourists alike.