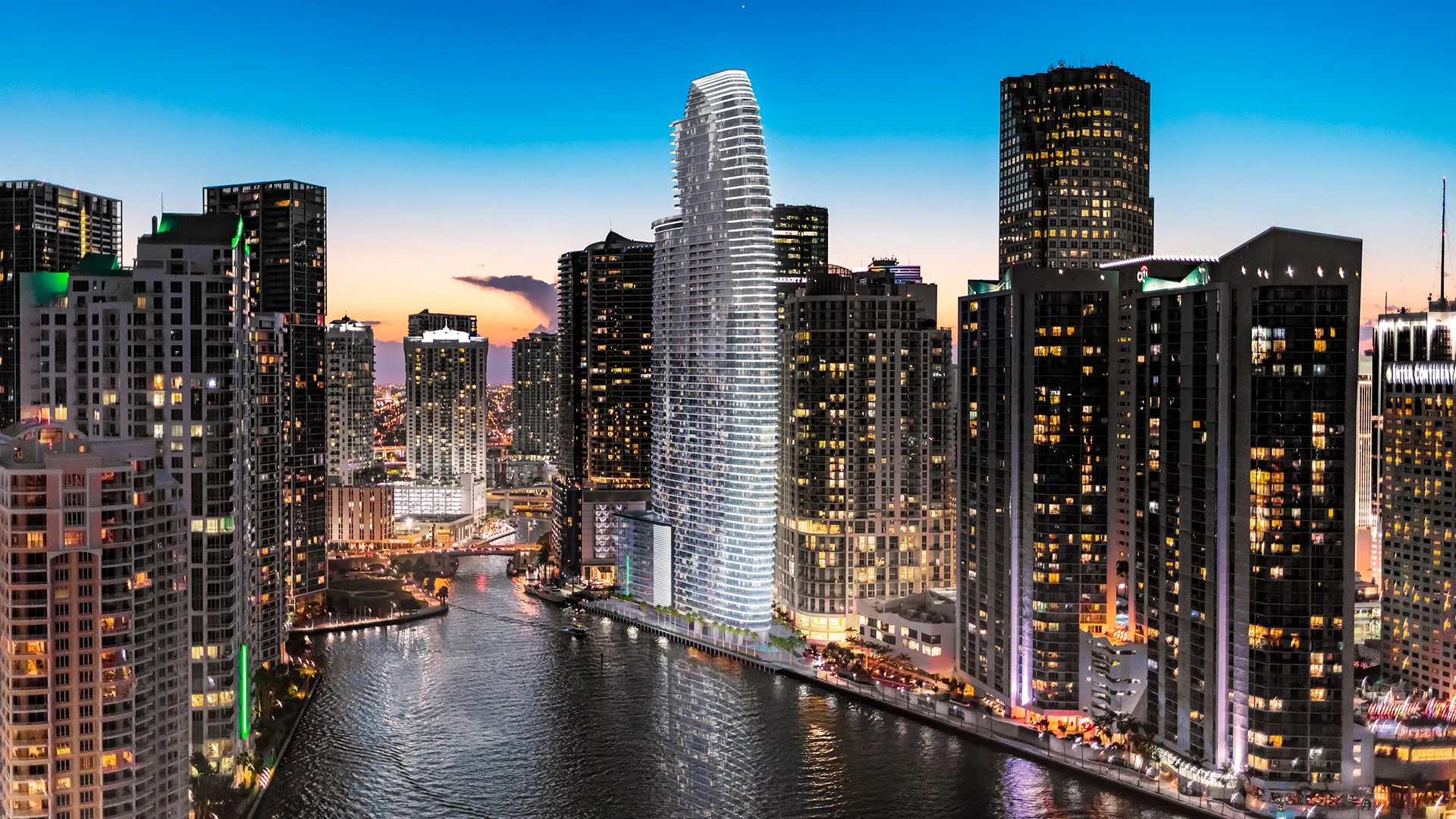 BUILDING
Aston Martin Residences
300 Biscayne Blvd Way, Miami FL 33131
Price starts from
$59M - $59M
Overview
ASTON MARTIN RESIDENCES
Aston Martin Residences is a pre-construction and the first-ever real estate project by the luxury carmaker Aston Martin. The British brand partnered with G & G Business Developments, which is owned by the prominent Argentinian Coto family. This development is located on the Miami River at 300 Biscayne Boulevard Way, and sits on a 1.25-acre plot of land that was purchased for a record-breaking $125 million in 2014. The residential tower will have 391 residences and reach 66 stories in height. See what awaits you at this ultra-luxury Miami condominium development, which will be delivered in early 2022.
Aston Martin Residences Architecture & Design
Aston Martin Residences boats Aston Martin-designed interiors, including two private lobbies with a custom reception desks, a two-story fitness center, and a full-service spa. The interiors will channel the brands "art of living" philosophy. The community spaces will feature Aston Martin's trademark colors, stitching style, and materials such as polished wood, supple leather, and carbon fiber. However, the community will be devoid of all auto-specific amenities such as showrooms or displays. The building was designed by Miami-based Revuelta Architecture in collaboration with Argentina-based Bodas Miani Anger (BMA), who also served as interior designers for the project.
Aston Martin Residences Units
Aston Martin Residences offers residents 1 to 5 bedroom residences, duplexes, and penthouses ranging in size from 700 to 19,000 square feet. River Residences are on levels 3 to 14. Panoramic Residences are on levels 15 to 45. Sky Residences are on levels 46 to 51. Amenities are located on levels 52 to 55. Penthouses are on levels 56 to 62. Lastly, Triplex Penthouses are on levels 63 to 66. Residences feature premium white marble flooring throughout living areas, kitchens, and bathrooms. All units offer expansive floor plan layouts with 10-foot high ceilings in residences and 12-foot high ceilings in penthouses with floor to ceiling windows and sliding glass doors. Kitchens in Aston Martin Residences showcase custom Bulthaup brand kitchens with top-of-the-line appliances. All residences and penthouses offer panoramic views of Biscayne Bay, the Atlantic Ocean, and the Miami skyline. Residences range from $500,000 to $7,000,000, while penthouses range from $14,000,000 to $35,000,000.
Aston Martin Residences Amenities
Aston Martin Residences offers residents a truly luxurious lifestyle with posh amenities, such as white glove concierge and valet services. Residents can rest assured that their privacy and security will be of utmost importance as there will be 24/7 security services on site. For residents who enjoy the outdoors, they can enjoy an infinity pool on the 55th floor, private outdoor pools and balconies for penthouse residents, and an exclusive yacht marina. Other amenities include a micro cinema and an art gallery. The building will also have a helipad on the roof.
Call Aston Martin Residences Home
If you are interested in learning more about Aston Martin Residences and the fantastic opportunities this exclusive community will bring to Downtown Miami, contact me at Brickell.com or (786) 306-4287. I will be pleased to guide you throughout the condominium purchasing process, so that you don't have to worry about a thing.
Aston Martin Residences Listings
Location
Walk Score for Aston Martin Residences
BUILDING
Aston Martin Residences
300 Biscayne Blvd Way, Miami FL 33131
Price starts from
$59M - $59M