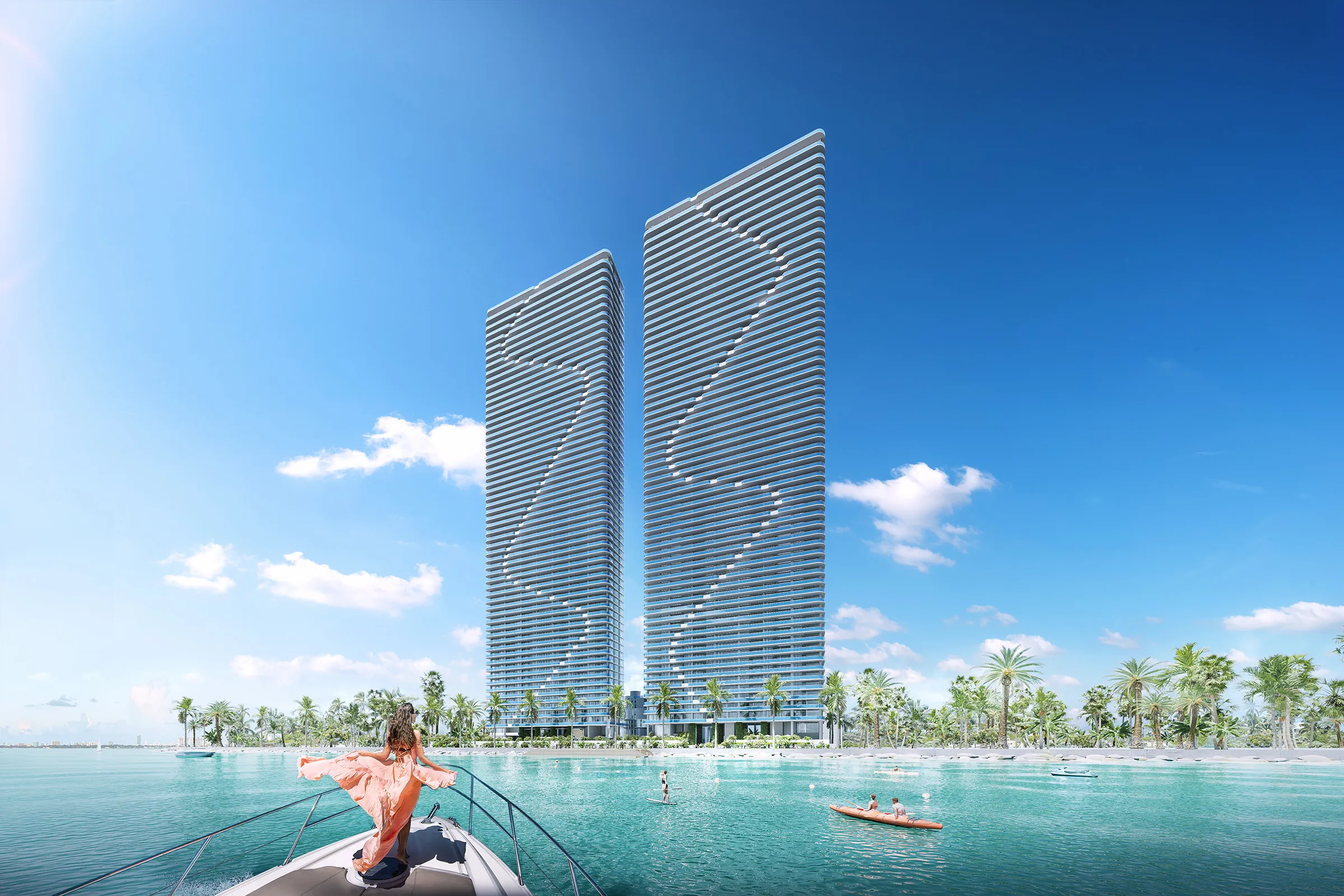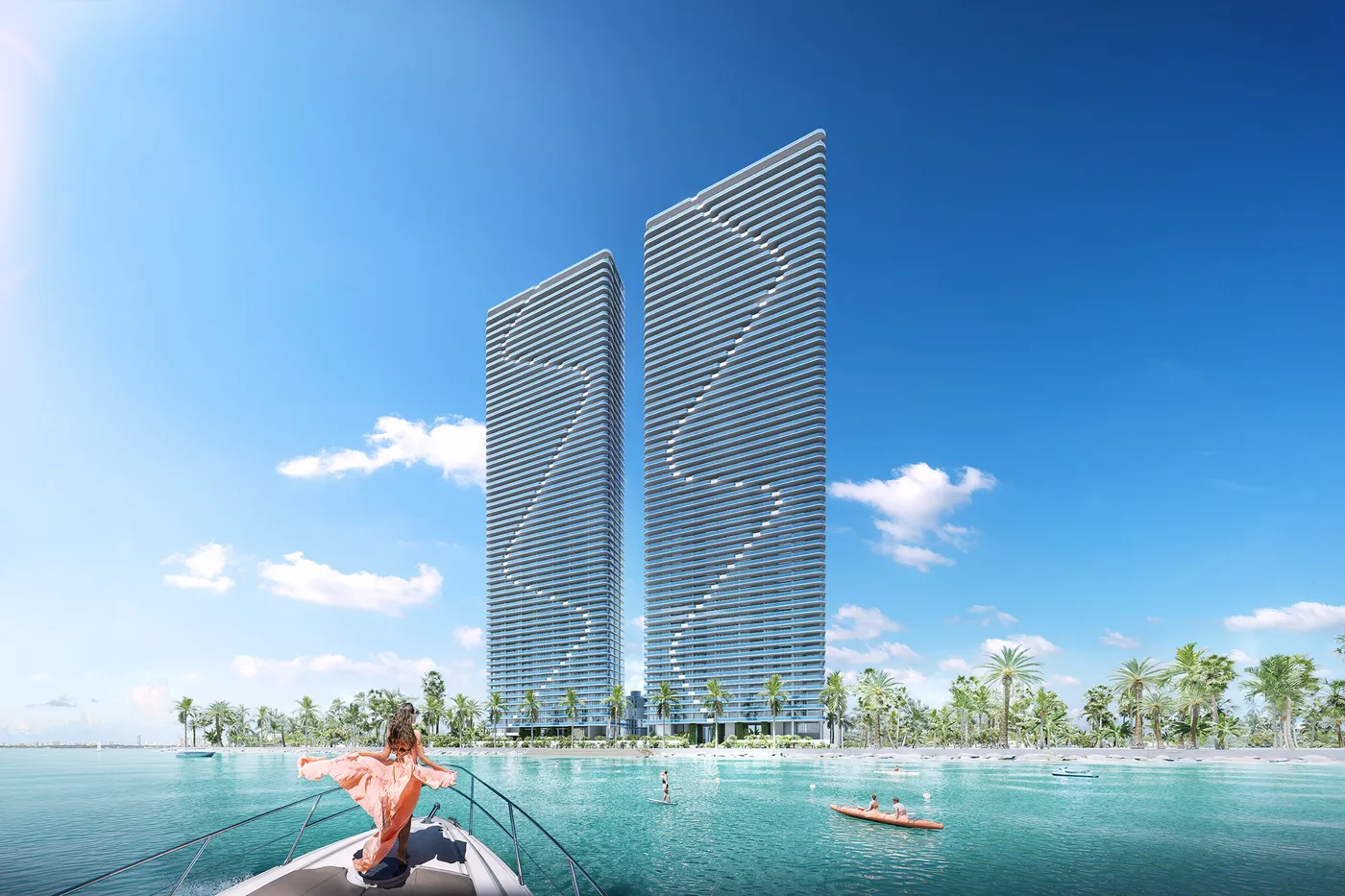 Overview
Aria Reserve stands as a remarkable pre-construction condominium development, setting the stage with its two magnificent 62-story twin towers that grace the shores of Biscayne Bay within Miami's vibrant Edgewater neighborhood in Florida. Designed under the creative guidance of Arquitectonica and masterfully developed by the renowned Melo Group, Aria Reserve is poised to make its mark as the tallest residential twin condo towers along the United States' waterfront.
Within the embrace of Aria Reserve, 782 luxury condo units will find their home, artfully distributed between the twin towers, with each tower housing 391 exceptional residences. The condominium offerings at Aria Reserve encompass four distinctive types: Panoramic Residences, Skyview Residences, Penthouses, and the highly exclusive Penthouse Mansions.
Each of these units will indulge its residents with breathtaking floor-to-ceiling windows that seamlessly blur the boundaries between indoors and out. The vistas that unfold before you will be nothing short of spectacular, treating you to unobstructed views of Biscayne Bay and the vast expanse of the Atlantic Ocean. Step onto your expansive private terrace, stretching up to a remarkable 11 feet in depth, and savor the gentle caress of the ocean breeze.
Inside, the interiors are a harmonious blend of form and function. Modern eat-in kitchens beckon with integrated high-end appliances and chef's islands, enticing culinary enthusiasts to explore their culinary creativity. Meanwhile, the spa-like master bathrooms offer an oasis of tranquility, featuring invigorating rain showers and sumptuous soaking tubs.
Panoramic and Skyview Residences present an array of 1 to 4-bedroom flow-through layouts, boasting sizes ranging from 1,059 to 2,584 square feet. The Penthouses elevate luxury living to new heights, offering 4 bedrooms and living spaces spanning from 2,930 to 3,260 square feet. Beyond these, Aria Reserve unveils the pièce de résistance: three unique Penthouse Mansions. These expansive abodes offer grand dimensions, ranging from 7,790 to 8,385 square feet, each graced with 7 bedrooms. To top it all off, a private rooftop terrace awaits, featuring a dining area, summer kitchen, living room, cabana bathroom, and a private pool that beckons you to unwind while taking in the awe-inspiring surroundings.
Aria Reserve extends an invitation to its residents to experience a world of extraordinary indoor and outdoor amenities. Stepping outdoors, you'll discover a water sports marina that offers paddleboard and kayaking services, granting you direct access to the Baywalk. Dive into the semi-Olympic-size lap pool, bask in the allure of the lounge pool, or relax on the inviting poolside daybeds. Little ones have their own aquatic paradise in the form of a children's splash pad, while a hot tub promises moments of pure relaxation. Further enriching your outdoor experience is a kid's playground, dog park, miniature golf, tennis court, basketball court, paddleball court, telescope observatory area, meditation garden, BBQ area with dining space, fire pit, and valet parking for your convenience.
Indoors, a world of leisure and sophistication awaits within Aria Reserve. Ascend to the Sky Lobby, where a comfortable lounge area, wine cellar room, and business center set the stage for your relaxation and productivity. Stay active in the high-tech fitness center or find serenity in the yoga lounge and wellness spa, complete with a sauna and steam room. The club room invites you to unwind in style, while the little ones have a dedicated playroom of their own. For movie enthusiasts, a private theater awaits, while teenagers can gather in their exclusive lounge and game room. Culinary delights can be savored in the restaurant overlooking the bay, and a café adds to the culinary offerings. A 24-hour attended front desk ensures your every need is met.
Aria Reserve Condo Features
782 total condo units (391 condos in each tower)
4 types of units: Panoramic Residences, Skyview Residences, Penthouses and Penthouse Mansion
Panoramic Residences: 1-4 bedroom flow-through layouts ranging in size from 1,059 to 2,584 SF offering 10-foot ceilings, located on floors 3-50
Skyview Residences: 1-4 bedroom flow-through layouts ranging in size from 1,059 to 2,584 SF offering 11-foot ceilings, located on floors 51-56
Penthouses: 4-bedroom flow-through units ranging in size from 2,930 to 3,260 SF
3 Penthouse Mansions: 3-story residences featuring 7 bedrooms ranging in size from 7,790 to 8,385 SF each featuring a private rooftop terrace with dining area, summer kitchen, living room, cabana bathroom and private pool
Penthouse collection offers exclusive and unique 2 to 3-car garage vaults
Floor-to-ceiling impact-resistant windows
Modern eat-in kitchens with integrated high-end appliances and chef's islands
Spa-like master bathrooms with rain shower and soaking tub
Expansive private terraces up to 11-ft deep
Amazing direct-water views of Biscayne Bay and the Atlantic Ocean
Aria Reserve Building Features & Amenities
Two 62-story towers which will be the tallest waterfront residential twin condo towers in the U.S.
Developed by Melo Group and Designed by Arquitectonica
Interior Design by Morada Haute Design
Landscape designed by ArquitectonicaGEO
Residents' Only Sky Lobby offering indoor/outdoor lounge area, wine cellar room and business center
High-tech fitness center
Yoga lounge with outdoor meditation garden
Spa with relaxation area, massage treatment rooms, sauna, steam room and solarium deck with cabanas
Club room with catering kitchen and outdoor patio with BBQ area
Kid's playroom
Movie theater
Teen's lounge and game room
Restaurant overlooking the bay
Café with outdoor terrace
Exclusive water sports marina with paddle board and kayaking services/storage
Direct access to Baywalk along Biscayne Bay
Semi-Olympic-size lap pool
Lounge pool
Poolside daybeds
Children's splash pad area
Outdoor hot tub
Telescope observatory area
Kid's playground
Miniature golf
Tennis courts
Basketball court
Paddleball court
BBQ with dining areas
Outdoor fire pit
Dog park
24-hour valet parking
24-hour attended front desk
Aria Reserve North Tower Deposit Structure
20% of Purchase Price at Contract
5% of Purchase Price at Groundbreaking (Estimated Q3 2023)
10% of Purchase Price at 20th Floor Pour (Estimated Q3 2024)
5% of Purchase Price at Top Off (Estimated Q1 2025)
60% Balance at Closing (Estimated Q3 2025)
Aria Reserve is not just a place to call home; it's a lifestyle to be embraced, promising a harmonious fusion of luxury, comfort, and endless possibilities.